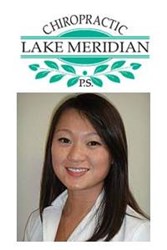 Dr. Cassie Jacobs brings a fresh attitude and new insight into the best possible care for our patients.
Kent, WA (PRWEB) March 28, 2013
Chiropractor Danene Saggau and the team at Lake Meridian Chiropractic in Kent, WA have recently welcomed a new doctor to their ranks. Dr. Cassie Jacobs, DC has joined the practice and will offer patients a unique combination of treatment options. A graduate of Pima Medical Institute, the University of North Florida and Palmer College of Chiropractic, Dr. Jacobs has also received a certification in Acupuncture and Chinese Medicine and is in the process of obtaining her Board Certification in Atlas Orthogonality (AO).
For her part, Dr. Jacobs is excited about this new opportunity and looks forward to working with the clinic's patients. "After looking back at my life and seeing all the choices I have made, I feel blessed to be here at Lake Meridian Chiropractic and to be a chiropractor in a field where I can help so many people."
Asked about the new addition, Dr. Saggau explains "As our business continues to grow and people learn more about the benefits of Atlas Orthogonal Chiropractic and how this painless approach can eliminate back pain, headaches and migraine issues, we have found it necessary to add a new doctor to our staff. Dr. Cassie Jacobs brings a fresh attitude and new insight into the best possible care for our patients." The AO board certification is a particularly important next step for Dr. Jacobs and for the practice as a whole. Dr. Saggau describes the significance of Atlas Orthogonal Chiropractic by offering a favorite quote from Dr. Patrick Kerr, a well-known chiropractor who works with Montel Williams: "The atlas is the first bone in the spine, and they call it the atlas because in Greek Mythology it was Atlas holding the world on his shoulders and your atlas basically holds your world on its shoulders."
According to Dr. Saggau, making advanced treatment techniques, including AO, accessible to patients is a top priority for the practice. "We have so many success stories, and word is spreading that Lake Meridian Chiropractic is the place to come for gentle treatment for body issues that ail you. With regular specials—including a March special of just $39—anyone can afford to come visit us to see what we can do to help relieve their pain. We can put your head on straight, alleviate pain and just might open up a whole new world for you!"
About Lake Meridian Chiropractic
Lake Meridian Chiropractic has been providing quality, effective chiropractic care to the residents of Kent, WA since 1990.
Lake Meridian Chiropractic
12901 SE Kent-Kangley Rd
Kent, WA 98030
(253) 630-1575
http://lakemeridianchiropractic.com
Follow Lake Meridian Chiropractic on Facebook