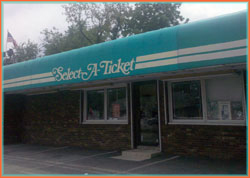 From the fancy hats and dresses, to the mint juleps to the awarding of the roses in the winner circle -- the Kentucky Derby is more than just one race, it is an unrivaled experience
Riverdale, New Jersey (PRWEB) March 29, 2013
New Jersey based ticket broker is pleased to announce tickets to the 2013 Kentucky Derby and Kentucky Oaks are now available at SelectATicket.com. Horse racing continues to be one of the most popular sports in America and the state of Kentucky is the home for some of the best horse racing in the world.
Interested ticket buyers can choose from several different seating areas at the legendary Churchill Downs track. The Kentucky Oaks takes place on Friday, May 3, one day before the Kentucky Derby on Saturday, May 4th.
The Kentucky Derby is such a major event, local Kentucky residents treat that Friday as a holiday and many schools and businesses close in order to observe the day.
People attending these events often do so for many reasons, but one of the main reasons is the long list of celebrities they may spot. Many famous people attend the Kentucky Derby due to the prestige of the event. Some familiar faces that have attended the Kentucky Derby in the past include Hugh Heffner, Kid Rock, Brad Paisley, Ashley Simpson, Miranda Lambert, Josh Groban, and several other prominent celebrities. There's always a chance to meet someone famous at the Kentucky Derby.
The Kentucky Derby has been run every year since 1875. The most famous leg of racing's three Triple Crown races, the Preakness and Belmont Stakes being the other legs, attendance at the Kentucky Derby often exceeds 150,000 and last year set a record with 165,307 fans in attendance. Demand for Kentucky Derby tickets is expected to escalate as the race draws closer.
"The Kentucky Derby has always been a popular event and now it is becoming known for celebrity sightings almost as much as simply a great day of horse racing. There's plenty of tradition, too. From the fancy hats and dresses, to the mint juleps to the awarding of the roses in the winner circle -- the Kentucky Derby is more than just one race, it is an unrivaled experience," says Mark Gibbons of Select-A-Ticket.
About SelectATicket.com
Select-A-Ticket has been in business over 34 years as an experienced, trusted and secure ticket broker.
Select-A-Ticket sells tickets to Broadway, Concerts, Sports, and Family Events and is a proud member of the National Association of Ticket Brokers (NATB).
For a complete list of available tickets, go to http://www.SelectATicket.com or call 800-735-3288 to order tickets by phone.