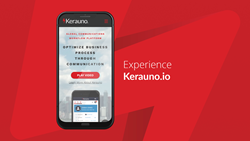 "This site is broader, deeper and more precisely explains how Kerauno can help optimize communication in virtually every type of business.", said Josh Ross, CEO of Kerauno. "
INDIANAPOLIS (PRWEB) September 14, 2018
Global communications workflow platform provider Kerauno announces the launch of a new, improved website: https://www.kerauno.io. The site gives industry-specific examples for how the platform works and provides users a clearer and faster viewing experience.
Among the features of the new site:

A detailed description of Kerauno platform
Real world examples of how Kerauno works in ten different industries
Videos that provide real-world examples in seven different industries, with more to be released in the near future
A careers page that speaks to the Kerauno culture and the available positions
Improved live web chat
"This site is broader, deeper and more precisely explains how Kerauno can help optimize communication in virtually every type of business.", said Josh Ross, CEO of Kerauno. "The site shows, in a very real way, why optimization is necessary to grow engagement and increase revenue."
Kerauno has experienced explosive growth over the past six months nearly doubling the number of employees and filling key leadership positions. The company has also expanded its channel partner network allowing for increased global sales.
"As we continue rapid expansion, it's critical to communicate our world-class product accurately," said Kerauno Chief Operating Officer Don Scifres, "this website is yet another tool to accomplish that and help customers understand the depth and breadth of the Kerauno platform and its value to them."
About Kerauno LLC
Kerauno is a global Communications Workflow as a Service (CWaaS) platform that powerfully connects people, process, software and systems. Through the infusion of key modes of communication including voice, SMS text, chat, email and social media, Kerauno can amplify existing business software to provide strategic insights and actionable analytics across all forms of communication which affect every industry and vertical. Headquartered in Indianapolis, Kerauno has created a global customer base that relies on its mobile-centric communications workflow platform to optimize business processes, enhance customer and employee engagements, and drive revenue to the bottom line. For more information, go to: https://www.kerauno.io.