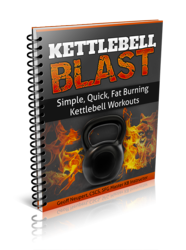 You can make tremendous gains with a little bit of creativity and by reducing your leverage
Durham, NC (PRWEB) March 02, 2013
"So what if you don't have more than one kettlebell," says Geoff Neupert, StrongFirst Master Kettlebell Instructor. "You can make tremendous gains with a little bit of creativity and by reducing your leverage."
Geoff, a 20-year veteran of the fitness industry, author, and presenter, has taught thousands of others since 2002 how to successfully use kettlebells to accomplish all of their fitness goals.
The major concept to grasp in making your light kettlebells feel heavy is to reduce the leverage. By doing so, the muscles work harder and a person is able to find their weak points, eventually eliminating them, allowing them a smoother transition to that heavier kettlebell when they are ready to get it. There are two major keys to maximizing gains from a single kettlebell: Body position and grip. Manipulating and combining these two variables will keep a person challenged for months to come.
The great thing about reduced leverage positions is that not only are they great for maximizing strength gains, they are metabolically demanding as well, which means that it is possible to see changes in body composition from including these exercises in a kettlebell workouts program.
More bleeding-edge information about kettlebells, including kettlebell workouts, specialized kettlebell training, and how to properly perform the kettlebell exercises, can be found at Geoff's website, http://www.kettlebellsecrets.com/blast.