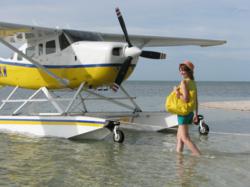 A picture perfect day at Little Palm Island
Key West, Florida (PRWEB) March 17, 2013
Key West Seaplanes, the region's premiere seaplane charter company is featured on the cover of Florida Travel and Life's April 2013 edition. In a story titled "Island Escapes- Find Your Own Private Paradise", Key West Seaplanes is also showcased in a centerfold photo feature during a "Picture perfect day at Little Palm Island" in the Florida Keys.
"Florida's islands offer the expected sand and surf, but they also inspire in surprisingly different ways" as noted by the Florida Travel and Life writer that so excitedly captured the beauty on a recent visit to Little Palm Island via seaplane with Key West Seaplanes. Other featured Little Palm Island in addition to private seaplane transportation to and from the island from any point on the Florida mainland and The Keys include outdoor showers at your bungalow and icy "Jamaican Me Crazy cocktails at the pool bar".
The Florida Travel and Life April 2013 cover photo features one of Key West Seaplanes' aircraft on the pristine white Little Palm Island beach with a beautiful passenger strolling along to her private luncheon table. Key West Seaplanes' taxi their seaplanes right up to the private seaplane dock at Little Palm Island so guests don't even get their feet wet upon their arrival to the exclusive island resort.
The acclaimed magazine's centerfold photo features one of Key West Seaplanes' fleet in a two-page spread titled "Island Idyll" on a "Picture Perfect day at Little Palm Island". Travelers often arrive via seaplane to Little Palm Island for lunch, brunch, dinner and overnight. The photo lures travelers with private tables available for the most exclusive dining experience.
Key West Seaplanes' aircraft owner Julie Ann Floyd excitedly shares "Our private seaplane service to Little Palm Island is certainly the most comfortably and scenic way to travel. We routinely whisk passengers from points on the mainland to Little Palm Island and points in The Florida Keys, Bahamas and Caribbean". She adds, "Our seaplanes are amphibious so we can originate at any land-based airport such as Miami International or water-based point such as Watson Island Seaplane Base in Miami....it's really wonderfully versatile and so convenient for our passengers".
Key West Seaplanes is also currently featured in the Florida Travel and Life's "VISIT FLORIDA" Special Edition currently on news stands. Florida Travel and Life Magazine and VISIT FLORIDA utilized Key West Seaplanes for aerial photography of The Dry Tortugas and Fort Jefferson for the special "500 Years in the Sunshine State" edition. Key West Seaplanes to Dry Tortugas and Fort Jefferson for aerial sightseeing and aerial photography are noted in an article in addition to photos of one of Key West Seaplanes aircrafts in another centerfold photo spread in this amazing article featuring The Keys in their "Natural State".
Key West Seaplanes is based in Key West and the company's fleet is available for private charters for the mainland of Florida, The Florida Keys and The Bahamas and Caribbean. Key West Seaplanes also offers scenic tours and seaplane rides in Key West and all surrounding areas. For passengers desiring an airplane experience, the company also offers conventional (wheeled) airplane charters, rides and tours. Key West Seaplanes has been in operation since 2009 and is an FAA-certified 135 air carrier service.