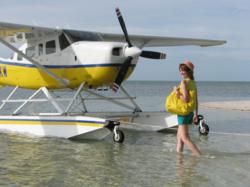 Find Your Own Perfect Paradise
Key West, Florida (PRWEB) March 31, 2013
Key West Seaplanes, the region's premiere private seaplane charter company is featured on the cover of the current edition of Florida Travel and Life magazine. The exclusive magazine has also showcased the seaplane company in a magnificent 2-page centerfold photograph and in a story entitled "Island Escapes, Find Your Own Perfect Paradise".
"Florida's islands offer the expected sand and surf, but they also inspire in surprisingly different ways. Whether you're seeking a nature-centric escape, some creative inspiration or indulgence in a luxurious setting, these ten islands have you covered" exclaims the author of the 10-page feature article. A Key West Seaplanes' seaplane at Little Palm Island Resort and Spa graces the centerfold photo that serves as the lead into this story. The company routinely whisks passengers from all points on the Florida mainland to the exclusive private island resort.
Key West Seaplanes' company representative, Julie Ann Floyd excitedly says, "Many people want to escape to Little Palm Island for a much-needed overnight or extended stay.....though we also have many people that escape for just a quiet and private breakfast, brunch, lunch or an early dinner. They find that even a quick getaway recharges them." She adds, "Key West Seaplanes private charters add to the mystique and allure of a true tropical island vacation".
"Indulgence comes in many forms at Little Palm Island, including outdoor showers at your bungalow and icy Jamaica Me Crazy cocktails at the pool bar", shares writer Megan Padilla. Among the many activities that may be enjoyed on the island include relaxing at the pool or beach, experiencing a spa treatment or going on a seaplane flight to see the local sights. Key West Seaplanes also offers private seaplane charter service to The Bahamas for Little Palm Island guests. Other options include seaplane service to Key West for the day or simply for dinner.
Key West Seaplanes is based in Key West and serves all points of the Florida mainland, The Keys as well as all of The Bahamas and Caribbean. The company offers exclusive, private seaplane charter flights in addition to local seaplane aerial sightseeing flights in and around Key West and The Keys. Floyd states, "Some of our most popular seaplane flights include seaplane flights over The Seven Mile Bridge, the reef and the area lighthouses".
Key West Seaplanes has recently expanded it's fleet with custom-built, custom-designed luxury seaplane and plans further expansion of it's service and additions to it's fleet this calendar year.