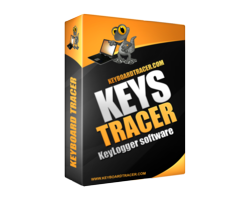 a powerful keyboard recorder that captures every key press on the user's PC and keeps a detailed log of all key presses.
Sacramento, CA (PRWEB) March 20, 2013
Upclock Software, a company known for its growing line of performance boosting tools, announces that Keyboard Tracer, its highly successful key logger, is now available for only $4,99 for all users via social networks. The software is a comprehensive keyboard logger that captures the presses of regular keys, lock keys (Scroll Lock, Num Lock, Caps Lock), key combinations with Alt, Ctrl and Shift, as well as function keys like F1 or Escape. Keyboard Tracer keeps a detailed log of all key presses on the user's computer and records the exact time of each press and the name of the application it was made in. The log file can be easily saved as a regular text file. The key logger has a very compact size, minimal system requirements and a simple interface that can be used by anyone. The program can be started automatically and hidden from the user's eyes until needed.
"Our main goal was to create a simple, yet very convenient tool for user monitoring at home and at work. Parents can use it to monitor their children's online activities and managers will be able to make sure that other employees are doing their work the way they are supposed to. We hope that the fact that Keyboard Tracer has been made free will make it an even more popular key recorder that so many users out there will benefit from," says Alex Suto, Senior Product Manager at Upclock Software.
Keyboad Tracer is not spyware, but a monitoring tool created for home and office use and prevention of data leaks, online abuse an inappropriate online behavior. The software contains no spyware or remote reporting components and is 100% safe to download: http://www.keyboardtracer.com/download/