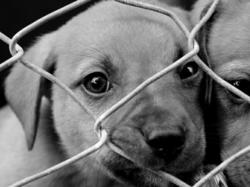 When you purchase a puppy from a pet store, you are supporting puppy mills.
Boca Raton, FL (PRWEB) March 14, 2013
Khloe Kardashian-Odom, the outspoken brunette bombshell made famous through reality TV hits like "Keeping Up With the Kardashians" and her hosting gig on Simon Cowell's "X-Factor" announced to her over 8 million Twitter fans yesterday that she and husband Lamar got a new Boxer puppy.
There has been no announcement as to where the Boxer puppy was purchased, however, last week the reality star blogged to her fans about visiting a pet store with step-father, Bruce Jenner. "I couldn't resist saying hi to the puppies," she wrote. "They were SO cute!"
"Celebrities, especially those that influence millions of young people through their words and actions, have a social responsibility to be good role models," Said Brandy Arnold, Content Editor for Dogington Post. "An outspoken animal rights activist and former spokesperson for PETA, Kardashian is in a unique position to encourage animal adoption and the support of animal rescue."
It is becoming widely known that puppies sold in retail pet stores are most often the product of puppy mills.
Puppy mills are essentially factories for creating puppies, in the shortest amount of time, with minimal expense. Meaning, the breeders that run these puppy mills have their females in a constant cycle of pregnancy and birth. The dogs are given no medical care. Living conditions are deplorable. These dogs are usually found crammed into tiny cages with other dogs, standing and sleeping in feces and urine, their hair matted, skin painfully itchy from fleas or ticks, starving and malnourished. Many dogs are suffering from respiratory infections, blindness, joint issues, even life-threatening illnesses that are passed on to their puppies. Sometimes, these poor dogs are left for weeks in cages with fellow dogs that have died.
Puppy mills sell their puppies to a broker. The broker then sells the puppies to pet stores, internet retailers, or in newspaper classified ads. There are over 5,000 of these puppy mills – fully licensed to operate – around the country. Countless more are operating illegally.
"The only way to eliminate puppy mills is to stop buying puppies from pet stores, online retailers, or through newspaper classifieds. Adopting a puppy from your local animal rescue organization or purchasing from a reputable, responsible breeder are the only appropriate options," said Arnold. "When someone purchases a puppy from a pet store, they are supporting puppy mills."
The online dog news source has initiated an anti-puppy mill campaign in light of the media attention surrounding Kardashian. The site believes that her decision to visit a puppy store sets the wrong example to the general public.
The Dogington Post reaches over 2.5 million dog lovers each week and hopes to make a huge impact by educating it's readers on the truth about pet stores and puppy mills. As part of this initiative, the site posted a public message to Kardashian and other articles explaining the link between pet stores and puppy mills.
In addition, the site nominated National Mill Dog Rescue for their Dogington Post Award for Best Dog Rescue of 2012. Readers and fans chose NMDR as the award winner, proving that dog lovers are becoming increasingly aware of the problems surrounding puppy mills.
For more information about Dogington Post and their efforts to end puppy mills, visit http://dogingtonpost.com.
About Dogington Post:
DogingtonPost.com was created for the love of dogs. It promises a forum of informative articles, newsworthy dog stories, health and breed information, and heartwarming videos. The site addresses current issues affecting dogs and their human parents – from serious health concerns to lifestyle issues on feeding, grooming and the overall well-being and mental health of dogs. It is the Internet newspaper, all about dogs.