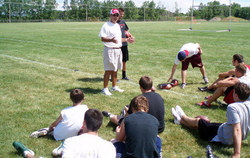 Coach has probably taught me more in the last two days than I've learned from any other coach in two or three years. So, if I follow his program I'll hopefully find myself employed in the NFL again.
River Falls, WI (PRWEB) March 6, 2009
Coach Zauner's Kicking and Long Snapping Camp at the University of Wisconsin-River Falls, the nation's first kicking camp in the country, will feature a solid list of NFL talent for this year's camp being held on June 27-29, 2009. Included are Seattle Seahawks punter Jon Ryan, New Orleans Saints kicker Garrett Hartley, 13 year NFL snapper Mike Morris and other kicking specialists.
Coach Zauner, a 13 year NFL Special Teams Coach who coached special teams for the Minnesota Vikings, Baltimore Ravens and Arizona Cardinals, is considered by many to be one of the best kicking coaches in the country. The list of NFL kickers he has worked with is unprecedented and includes having coached or worked with 19 Pro Bowlers.
"Gary is easily the most knowledgeable kicking coach in the country. His approach of blending all the technical aspects of kicking with a practical common sense approach, is one of Gary's finest qualities," says five time Pro Bowler Gary Anderson, one of the all time most accurate and prolific kickers in NFL history. "He can improve any kicker in a very short period of time and put you on a precise road to success. He is simply the Very Best!"
Former Chicago Bears kicker Kevin Butler adds, "Gary not only helped me with my technique, but my confidence. He's the best when it comes to training kickers." Butler is the only kicker inducted into the College Football Hall of Fame.
Jon Ryan is the punter for the Seattle Seahawks. In the 2006 season he signed as a free agent with the Green Bay Packers and continued to punt for the Packers until 2007, ending the 2007 season with gross marks of 44.4 which was the fourth-best in club history. Ryan signed with the Seattle Seahawks in September, 2008. In week eight against the San Francisco 49er's, he kicked a 63 yard, a 60 yard and a 55 yard punt. He had a great 2008 season and finished with 78 punts averaging 45.6 yards.
Upon becoming a free agent last season, Ryan worked with Zauner to improve his technique. After his punting lessons, Ryan said, "Coach has probably taught me more in the last two days than I've learned from any other coach in two or three years. So, if I follow his program I'll hopefully find myself employed in the NFL again."
Shortly after his workout with Zauner, Ryan signed with the Seattle Seahawks.
Garrett Hartley is the place kicker for the New Orleans Saints. Hartley attended the University of Oklahoma and was a finalist in 2006 for the prestigious Lou Groza Award, given to the best college place kicker in the country. After college he signed as a free agent with the Denver Broncos in 2008 and was later picked up during the NFL season by the New Orleans Saints. In eight games he finished the season perfect on field goals going 13 for 13. He goes into the 2009 season as the starting kicker for the Saints.
"Coach has been really good at refining my technique without changing it," says Hartley. "He's been helping and guiding me, and I feel a lot more confident after a few sessions. I wish I had more time here but need to get back for my Pro Day. I really recommend Coach Zauner to any kicker. He's the real deal!"
Mike Morris was a former long snapper for the Minnesota Vikings and is currently radio host for KFAN in Minneapolis, Minnesota. Mike played his college ball at Northeast Missouri State. After college he played for the St. Louis Cardinals, Kansas City Chiefs, New England Patriots, Seattle Seahawks and the Cleveland Browns. He settled with the Minnesota Vikings and was their full time snapper from 1991-1999.
Following the end of his NFL career, Morris took over the morning drive time slot on sports radio station KFAN. Morris broadcasts using the moniker 'The Superstar' and his show is known as 'The Power Trip Morning Show'. Morris is also the co-host of Vikings Fanline with Cory 'Sludge' Cove.
Morris is also pursuing his greatest passion; leading workouts at his MILO Barbell Club. His clientele includes men and women, ages 15 to 54. He has trained with the likes of former WWE champion Brock Lesnar, and has one A-list regular, six-time Pro Bowl center Matt Birk, who skips the Vikings' voluntary workouts to lift four days a week with Morris.
The River Falls staff includes present/former UW-River Falls players, lead by Falcon Head Coach John O'Grady who has directed the camp since 1989. His resume includes coaching positions at Kent State University, Miami University of Ohio and the University of Wisconsin. O'Grady has enjoyed success as a player and coach at all levels of the college game.
O'Grady was inducted into the Wisconsin Football Coaches Association (WFCA) Hall of Fame on April 5, 2008. He was honored with the prestigious award based on a combination of his coaching record, longevity and service to the WFCA.
Campers will stay in a supervised UW-River Falls residence hall on campus. All meals are served at the campus dining facility which is a short walk from both the practice fields and the residence hall.
Click here for pricing, additional camp information and player videos: RIVER FALLS KICKING CAMP and PLAYER VIDEOS
Click here to register: REGISTER NOW
For Further Information Contact:
John O'Grady, Falcon Head Coach UW-River Falls
john.f.ogrady@uwrf.edu
800.228.5613
# # #