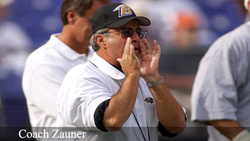 I want to give talented kicking specialists a platform to showcase their talents and potential to reach the next level
Phoenix, AZ (PRWEB) April 3, 2009
On Monday April 6, approximately 42 kicking specialists will display their skills and techniques for 31 professional football teams including 25 National Football League (NFL) teams, 2 Canadian Football League (CFL) teams and all 4 of the newly formed United Football League (UFL) teams in the 1st Annual Coach Zauner Free Agent Specialists NFL Combine. The Free Agent Combine will take place in Phoenix, Arizona.
Coach Gary Zauner, former 13 year NFL Special Teams Coordinator, says the response by teams and specialists for the first year of this event has exceeded his expectations and is fulfilling a life-long dream. "Since I started coaching special teams in the NFL, I have always had the dream of creating an event which would present the 'best of the best' free agent kicking specialists talent to football Pro Personnel," says Zauner. "And now I see this dream coming to fruition."
"I want to give talented kicking specialists a platform to showcase their talents and potential to reach the next level," says Zauner. "It also give special teams coaches a single venue to evaluate the best free agent kicking specialists available and hopefully make their goal of finding and evaluating kicking specialists more efficient."
Zauner, who presently has a professional kicking and special teams consulting business, says the time was right to create this Free Agent Combine. "During the Special Teams Coach's Dinner at the 2008 NFL Combine, Joe Marciano, Special Teams Coordinator for the Houston Texans, suggested I consider conducting a Free Agent Combine for kicking specialists prior to the NFL Draft," says Zauner. "Marciano said it was a general consensus among special teams coaches that many of the kicking specialists events being currently conducted did not have a 'high caliber' of kicking specialists attending."
Zauner agreed there was a need for an event featuring a high level of kicking specialists talent and preceded with creating the 2009 Coach Zauner Free Agent Specialists NFL Combine.
"My goal is to ensure the event is comprised of the highest caliber kicking specialists," says Zauner. "I have personally worked with, or have evaluated, every kicking specialist who would be attending this Free Agent Combine. In other words, these kicking specialists have all been handpicked by me, because I believe each one has the talent to be in a training camp and compete for an NFL, CFL or UFL roster spot."
Zauner, who coached special teams for the Minnesota Vikings, Baltimore Ravens and Arizona Cardinals, is considered by many to be one of the best kicking coaches in the country. The list of NFL kickers he has worked with is unprecedented and includes having coached or worked with 19 Pro Bowlers.
Five time Pro Bowler Gary Anderson, one of the all time most accurate and prolific kickers in NFL history says, "Gary is easily the most knowledgeable kicking coach in the country. His approach of blending all the technical aspects of kicking with a practical common sense approach is one of Gary's finest qualities. He can improve any kicker in a very short period of time and put you on a precise road to success. He is simply the very best!"
Dennis Green, former Head Coach of the Minnesota Vikings and the Arizona Cardinals who has recently been hired to head the newly formed UFL's San Francisco franchise, agrees with Anderson and says Zauner is not only a great coach, but he definitely has an eye for picking kicking specialist talent. "I have hired Gary two times in my head coaching career at the Vikings and the Cardinals. Gary is one of the top special teams coaches in the country. He has a thorough understanding of how to help a player become better. Gary has developed and coached some of the top kickers in the history of the NFL. If an organization is looking to find and or develop any type of kicking specialist then Gary is the best person to do that!"
Zauner says it is to early to judge the success of the event from the perspective of the specialists and the coaches, but considering the kicking talent and teams he has assembled, he feels confident anyone participating will find value in the event. "The caliber of kicking specialists is of such quality, I'm sure coaches will be impressed with the field of free agent talent,'" says Zauner. Adding. "and kicking specialists are always eager to showcase their abilities to teams whenever possible."
Although the Free Agent Combine is not open to the public, anyone interested in learning more about the event, or in viewing video workouts with a number of the kicking specialists who will be attending the Free Agent Combine, can go to the Coach Zauner website at http://www.coachzauner.com. Zauner says he plans to post many of the specialists workouts on the website after the conclusion of the event.
# # #