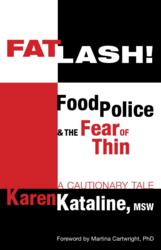 'Appearance obsession' is centered on children before they've had the chance to develop or get to know their own bodies.
Denver, CO (PRWEB) March 26, 2013
In London last week, children were turned into fashion models and put on the catwalk at the "Global Kids Fashion Week," an inaugural event celebrating the booming market in "kid couture." The market in Britain is estimated to be worth £6.5bn, and the worldwide figure is reported to be more than 10 times that.
Karen Kataline, MSW, says this is troubling evidence of a growing appearance obsession and cultural tolerance for putting kids on inappropriate display.
"It's no accident that this coincides with a boom in child beauty pageants, hysteria over 'childhood obesity' and parents who write books about putting their kids on diets," Kataline said. "It's part and parcel of appearance obsession which is centered and projected onto children. They haven't had the chance to develop or get to know their own bodies yet. But this pathology isn't about the kids. It's about adults and adult agendas."
"We don't focus on the children but on the parents," explains Alex Theophanous, who co-organized "Global Kids Fashion Week" at London's Freemason's Hall. Charlotte Philby reporting for The Independent writes, "It is little wonder that every luxury brand worth its salt is cashing in with mini-me lines."
Kataline says the "mini-me" analogy hits the nail on the head. In these cases, children are merely the narcissistic extensions of their parents and other adults who haven't grown up themselves and search for their lost childhoods in the lives of their kids. What is most troubling, is that clothing companies and media outlets are supporting and exploiting this pathology. The public is given the message that this is an acceptable way to treat children.
Kataline's book, FATLASH describes her personal experiences in child beauty pageants and food restriction with a mother who was obsessed with her weight and appearance. "I was paraded in front of audiences at the age of three, but didn't realize until I was an adult, that this began the process of disassociating from my body. We stand to have a whole generation of children who don't know where other people's lives end and theirs begin."
"Rather than nurturing a positive body image and supporting body integrity, these parents project their own weight and appearance obsessions onto their children. Thrusting children onto catwalks is simply not appropriate and will seriously damage their ability to grow and develop naturally. It invades their sense of boundaries and puts them at risk for eating disorders, body image disturbances, or worse."
Asked what can be done to end the cycle and reverse the trend, Kataline says, "Adults first have to find their own sense of self and personal responsibility before they can encourage a separate and healthy sense of self in their children."
Karen Kataline, MSW received her master's degree from Columbia University and has practiced in a variety of non-profit and corporate settings. She has taught communications and public speaking at the New School for Social Research, Parsons School of Design in New York, New Jersey's Montclair State College, and Fairleigh Dickenson University, among others. FATLASH! Food Police & the Fear of Thin is a finalist in the Foreword Review's 2012 Book of the Year Awards in the category of "Women's Studies."