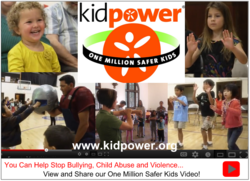 A world with One Million Safer Kids is a better world for all of us.
San Francisco, CA (PRWEB) December 05, 2012
The "One Million Safer Kids" Video from acclaimed personal safety education nonprofit, Kidpower, was released today to broadcast its mission to create a safer world, one child at a time. The new video shows how Kidpower makes it fun for kids to learn how to be safe from bullying, abuse and violence.
The goal for the One Million Safer Kids initiative is simple: to make one million children safer from bullying, abuse and violence by finding innovative new ways to share Kidpower's personal safety and awareness skills training.
"We've wanted to make a One Million Safer Kids video from the start of the initiative," says Kidpower founder and executive director, Irene van der Zande. "Our experience is that kids learn best when they can practice skills in a safe and fun setting and this video is a powerful way to share how we make that happen."
Kidpower launched its One Million Safer Kids initiative last year — with the goal to reach one million more kids in five years or less. One year later, more than 200,000 young people have already been helped and van der Zande hopes to use the video to reach worldwide to help parents, teachers and children get access to Kidpower's often life-saving personal safety skills.
"This new video offers an inspiring view into what really makes Kidpower so engaging and effective for kids and adults alike," says Eileen DiFranco, a Kidpower Board Member and Advisor. "It is also the centerpiece of our end-of-year 'Season of Safety' campaign. During the month of December we will be asking Kidpower supporters to share personal stories about how Kidpower skills have made their lives safer and more fun."
"I hope the story of how Kidpower got started, and seeing kids have fun practicing the safety skills in our new video will inspire people to help us reach even further and faster — to share Kidpower with all of the kids in their lives, in their communities, and around the world," says van der Zande.
"We had a blast working with Kidpower!" says Cara Jones, the video producer and founder of Storytellers For Good. "We're so inspired by how Irene and her team are transforming young lives and empowering kids everywhere to stay safe."
Kidpower was founded in 1989 by van der Zande after she protected a group of children, including her own, from a man threatening to kidnap one of them. Since then, Kidpower has helped more than two million young people learn to protect themselves from bullying and abuse, and build healthy relationships. Van der Zande aims to boost that number rapidly through the One Million Safer Kids initiative.
"A world with One Million Safer Kids is a better world for all of us." says van der Zande. "It is a world with more joyful playgrounds, classrooms, and neighborhoods. It is a world with more relationships strengthened by strong boundary setting skills. It's a world with less trauma and injury. It is a world where children (and parents) feel safer because they are empowered. The potential ripple effect of One Million Safer Kids is both staggering and achievable."
About Kidpower
Kidpower's expertise in child safety has been featured by USA Today, CNN, and The Wall Street Journal and its programs are widely recommended worldwide for taking a positive, skills-based approach to preventing abuse, kidnapping, bullying and other violence. Kidpower workshops, K-12 safety curriculum, books, videos, the Kidpower.org free online library and other services have helped to protect more than 2 million young people from abuse, bullying and other violence since 1989. Irene van der Zande, Kidpower's founder and executive director is the author of the Kidpower Book for Caring Adults: Personal Safety, Self-Protection, Confidence, and Advocacy for Young People, and the Kidpower Safety Comic Series, which many families and schools use in their bullying, child abuse and violence prevention training programs.
Media: Contact safety@kidpower.org for more information or to schedule an interview.