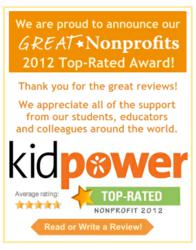 San Francisco, CA (PRWEB) December 06, 2012
Kidpower announced today that it has been honored with a prestigious 2012 Top-Rated Award by GreatNonprofits, the leading provider of user reviews about nonprofit organizations.
"We are excited to be named a Top-Rated 2012 Nonprofit," says Irene van der Zande, Kidpower founder and executive director. "We are proud of our accomplishments this year; including bringing safety skills education to more than 200,000 people with our One Million Safer Kids initiative, creating new curriculum, publishing The Kidpower Book for Caring Adults, and many more free articles and videos to help more people have access to what can be life-saving personal safety skills to stop bullying, abuse, kidnapping and other violence." 
The Top-Rated Nonprofit award was based on the large number of positive reviews that Kidpower received – reviews written by students, volunteers, and donors. People posted their personal experience with Kidpower. For example, one person wrote, "The excellent information and training helped my husband and me support our daughter's freedom and safety. We owe our increased peace of mind to Kidpower."
Another person wrote: "As a family law attorney, I gave the comic book to a client whose 5-year-old was acting angry and hitting children who said mean things to him. He wouldn't let her stop reading it to him and wanted to start over when they finished. The next day he told his mom that when a child had been mean to him, he decided that the child was not safe and used his walk away power to solve the problem. He and my client were very pleased. This really should be taught in schools."
Being on the Top-Rated List comes at an important time of the year, as donors look for causes to support during the holiday season.
"We are gratified by Kidpower for its work," said Perla Ni, CEO of GreatNonprofits. "They deserve to be discovered by more donors and volunteers who are looking for a great nonprofit to support."
Being on the Top-Rated list gives donors and volunteers more confidence that this is a credible organization.  The reviews by volunteers, clients and other donors show the on-the-ground results of this nonprofit.  This award is a form of recognition by the community.
About Kidpower
Kidpower is a non-profit leader in personal safety and confidence-building skills education, whose programs are highly recommended by experts worldwide for taking a positive, skills-based approach to preventing abuse, kidnapping, bullying and other violence. Instead of using fear to teach about danger, Kidpower makes it fun to learn to be safe.
Kidpower expertise has been featured by USA Today, CNN, and The Wall Street Journal and recent publications include the Kidpower Book for Caring Adults: Personal Safety, Self-Protection, Confidence, and Advocacy for Young People, and the Kidpower Safety Comic Series, which many families and schools use in their bullying, child abuse and violence prevention training programs. Kidpower workshops, K-12 safety curriculum, books, videos and other services have helped to protect more than 2 million young people from abuse, bullying and other violence since 1989. http://www.kidpower.org
About GreatNonprofits
GreatNonprofits is the leading site for donors and volunteers to find reviews and ratings of nonprofits. Its mission is to inspire and inform donors and volunteers, enable nonprofits to show their impact, and promote greater feedback and transparency. http://www.greatnonprofits.org
Media Contact
Email safety(at)kidpower(dot)org for more information or an interview.