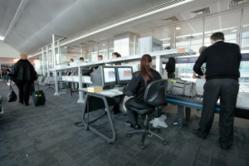 Simple preparations by parents, along with better TSA training and procedures can make airport screening become an interesting experience for children instead of an upsetting one — without sacrificing transportation security or a child's emotional safety.
Santa Cruz, CA (PRWEB) April 27, 2012
Even though the TSA has updated its policies for to be more child-friendly, TSA agents in Kansas yelled and insisted on a pat-down for a scared four-year-old girl, scaring her and upsetting her family at airport security earlier this month. Kidpower, a nonprofit leader in violence prevention and personal safety education for children and adults since 1989, has ten recommendations to help families with children follow airport security procedures without trauma, and for the TSA make changes that help ensure going through security is an interesting instead of scary experience for little kids.
The April 25th Huffington Post article, TSA Defends Pat-Down of Crying 4-year Old Girl at Kansas Airport, describes how a little girl who had already been screened broke TSA protocols by running to hug her grandmother who was waiting close-by for a pat-down after tripping the scanner alarm. The Associated Press quotes both the girl's mother and grandmother, who describe how the TSA officials yelled at the little girl, terrifying her, threatened her when she tried to run away, and then forced her to have a pat-down as she screamed and sobbed in her mother's arms; instead of allowing her mother's request to let the girl walk through the scanner again or using the wand scan, which the TSA website lists as an alternative to a pat-down.
"This way of handling problems with a young child by the TSA agents was outrageous and traumatizing," says Irene van der Zande, Founder and Executive Director of Kidpower and author of a new book on child safety. "Where was their common sense and compassion in this situation?"
"The good news is that simple preparations by parents along with better training and procedures by the TSA can make airport screening become an interesting experience for children instead of an upsetting one — without sacrificing transportation security or a child's emotional safety," says van der Zande.
Van der Zande has published the following ten recommendations on the Kidpower blog for easing travel with young children at the airport; five tips for parents and caregivers flying with children, and five suggestions for the TSA on how to prevent trauma for children while maintaining security.
Five Kidpower recommendations for parents and other caregivers flying with children:
1. Know the rules. The rules keep changing so inform yourself before you fly. When you know the rules and guidelines, you can speak from a place of knowledge if an issue arises. Check the TSA website on Flying With Kids.
2. Prepare children in a fun, reassuring way. Explain what happens when you go to an airport and fly on an airplane. Teach "Stranger Safety" instead of Stranger Danger. Explain that the TSA officials are there to help everyone be safe, even though they are strangers and that it is okay to do what they say because you know about it and you will be staying together. Make up a story about a child's favorite character getting screened at the airport. Play a game where a child can pretend to gently pat down a stuffed animal or doll while you hold its hand or paw.
3. Reassure your child at the airport. Explain what is happening as you are in the security line. Remind your child about what to do. For example, "See, that lady is getting to have someone checking her body with a wand. Isn't that interesting? Remember, once we go through that little gate, we have to stand where the people in uniforms tell us to stand and not leave until they say it's okay. We'll stay together the whole time."
4. Act calm and upbeat with your child no matter how you feel inside. Children are most likely to get upset if you seem upset. If your child gets anxious, be reassuring that, even if something unexpected happens, no one did anything wrong and everything is okay. If you are late, try to put the stress aside and remember to allow yourself more time next trip. Even if someone is rude, decide to deal with this later. At the moment, in front of your child, act cheerful and upbeat.
5. Advocate for your child with respect, persistence, and confidence. If you think someone is doing something in a way that seems inappropriate or unsafe for your child, speak up in a respectful, powerful way. For example, "I understand that you are busy, but the way you are handling this is not consistent with the rules I saw on the TSA website. Please get a supervisor." Or, "I understand that we made a mistake, but it was an accident. It will help my child cooperate if you act friendly and positive rather than sounding impatient and suspicious."
Five Kidpower recommendations for the TSA and its agents when screening children:
1. Make sure everyone understands the rules. Have the rules for passengers going through security, including children, clearly posted just as the rules are about what you cannot have in your carry-on luggage. For example, "After going through security, people, including children, should not touch someone who is still being screened."
2. Advise parents and other caregivers on how to prepare children ahead of time. Adults need to know what to say to their children so that they will understand what is going on. Parents and caregivers also need to know what to do if a child needs to have a pat down. A simple, fun video could be created for parents to show children what being wanded looks like and what a pat down looks like so that they won't need to worry. People flying with children under 12 could also be sent the Kidpower recommendations above.
3. Let kids see, touch, and talk to their adults. An airport is an overwhelming place and being separated from their parents or other family members even for a few seconds can be terrifying for children – and deeply upsetting for parents who want to protect their kids. Allow children who go through the security gate on their own to see and walk to one of their adults. If a child needs an extra screening, let the child hold hands with and talk with one of their parents or caregivers.
4. Make being screened with a wand or patted down an interesting experience instead of an upsetting one. Tell children who need to be screened with a wand or patted down what is going on and allow them to have verbal and physical contact with their parent or other family member in a way that does not interfere with the screening process. Prepare agents to enlist parental cooperation and keep a friendly attitude even if people get upset, remembering that everyone might be feeling overwhelmed by their trip. For example, "I know you are safe and a good person, but we have to have the same rules for everybody. I understand you don't like it and that's okay. Sometimes for safety, we have to do things we don't like. Your mom is right here and you'll get a special sticker when you are done."
5. Train officials on how to stay calm and reassuring rather than becoming impatient or acting alarmed if a child breaks a rule and gets upset. Use common sense! A four-year-old hugging a grandmother might require extra screening of both for public safety, but is just not the same as someone trying to pass a dangerous object to someone else. Responding to a stressed-out parent or a crying child with compassion can work wonders. For example, "I am sorry we have to do this. I understand you are upset and wish we had a way to do this differently. Let's find a way to make this fun. Would you like to see how my blue glove can get a face like a silly puppet?"
Airport screening of kids is an issue where a little change can go a long way. A little imagination, a little compassion, a little preparation, a little training, and a little common sense can go a long way towards preparing TSA officials, parents, and children so that everyone has a positive screening experience at the airport.
About Irene van der Zande and Kidpower:
Irene van der Zande is the Founder and Executive Director of Kidpower Teenpower Fullpower International. Her new book, "The Kidpower Book for Caring Adults: Personal Safety, Self-Protection, Confidence, and Advocacy for Young People," with a foreword by Gavin de Becker, is the most comprehensive resource available for parents, teachers, and other adults who care about protecting children and teens from bullying, child abuse, abduction, and other violence and want to learn how to empower young people with skills for taking charge of their emotional and physical safety. Van der Zande is available for interviews or to provide guest blog posts. Kidpower services include educational resources, workshops, and consultation on how to create cultures of caring, respect, and safety for everyone, everywhere. Contact safety(at)kidpower(dot)org with requests for interviews, resources or permission to use requirements.
Kidpower Teenpower Fullpower International®, known as Kidpower® (http://www.kidpower.org), is highly recommended by experts worldwide for taking a positive, skills-based approach to bullying, violence, abuse and kidnapping prevention. Instead of using fear to teach young people about violence prevention, the Kidpower Method™ makes it fun to learn to be safe, building habits that increase the skills and confidence of kids, parents, teachers and other caring adults that can last a lifetime.
Kidpower has directly served more than 2 million people of all ages and abilities, since its founding as a nonprofit organization in 1989, offering workshops through more than 20 centers and offices across the US and around the world, as well as an extensive free library of articles, podcasts and blog posts online and low-cost publications that are used by hundreds of thousands of people every year. Visit http://www.kidpower.org for more information about people safety for children, teens and adults and training opportunities in your area.