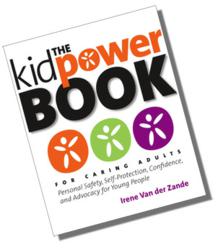 I strongly believe that a great deal of violence, including bullying and abuse, could be prevented if everyone had these skills.
Santa Cruz, CA (PRWEB) April 30, 2012
Author Irene van der Zande, founder of Kidpower, an international nonprofit, and expert in personal safety and violence prevention for children and adults, has written a comprehensive guide to protecting children from harm and teaching them to protect themselves. The book, entitled "The Kidpower Book for Caring Adults: Personal Safety, Self-Protection, Confidence, and Advocacy for Young People," is available now online with a forward by Gavin de Becker, best-selling author of "The Gift of Fear" and "Protecting The Gift."
"This easy-to-use comprehensive guide puts decades of Kidpower experience at the fingertips of parents, teachers, and all adults who care about protecting children and teens from bullying, abuse, abduction, and other violence," says van der Zande, founder and executive director of Kidpower Teenpower Fullpower International (Kidpower for short).
The forward for the book is written by Gavin de Becker, renown expert in predicting and managing violence, who has served in three presidential advisory positions, and also has also been an advisor to Kidpower for almost 20 years. "That commitment began as I watched kids at a (Kidpower) workshop, saw them joyfully and successfully taught to practice skills that can keep them safe," he writes in the forward. "I felt intuitively 'This is right.'"
De Becker offers his own "Test of Twelve" in the book forward, "a list of skills that children would ideally know before they are ever alone in public or on their own without the protection of their adults." He concludes, "Kidpower provides extensive tools that further the ability of parents and other caring adults to prepare children to pass each of the milestones on this test."
According to van der Zande, "This new book guides adults, through stories, step-by-step practice, and detailed explanations, in how they can empower young people with skills and knowledge for developing positive relationships, increasing their confidence, and taking charge of their emotional and physical safety."
Watsonville Police Chief Manny Solano endorses the new book: "As a public safety officer, I strongly believe that a great deal of violence, including bullying and abuse, could be prevented if everyone had these skills. Kidpower has an outstanding track record in teaching parents and other caring adults effective skills for protecting young people without creating fear."
About Author Irene van der Zande, Kidpower Executive Director and Founder:
In 1985, Irene van der Zande, a young mother and new author, was suddenly, in the middle of the day, with people standing all around, protecting a group of young children, including her seven-year-old daughter and her four-year-old son, from a man who was threatening to kidnap them. Realizing that she couldn't be with her own children all the time, and that she wanted all children to be safe, she then collaborated with educators, law enforcement experts, mental health professionals, martial artists, and other parents to develop programs for teaching personal safety and violence prevention that are empowering, fun, and effective, establishing Kidpower as a nonprofit organization in 1989.
For more than two decades, van der Zande has led Kidpower as its executive director, founder, and primary author. In addition to many articles and training manuals, her other publications include: "1, 2, 3 ... The Toddler Years" (with a foreword by Magda Gerber), "Bullying – What Adults Need to Know and Do to Keep Kids Safe," "The Fullpower Relationship Safety Handbook," the cartoon-illustrated "Safety Comics" series and "Kidpower Teaching Kits" with evidence-based, K-12 curriculum in easy lesson plans for elementary, high school and transitional program classroom instruction. Van der Zande is available for interviews and guest blog posts. Contact "safety" at kidpower.org.
About Kidpower:
Kidpower Teenpower Fullpower International®, known as Kidpower® (http://www.kidpower.org), is highly recommended by experts worldwide for taking a positive, skills-based approach to bullying, violence, abuse and abduction prevention. Instead of using fear to teach young people about violence prevention, the Kidpower Method™ makes it fun to learn to be safe, building habits that increase the skills and confidence of kids, parents, teachers and other caring adults that can last a lifetime.
Kidpower has directly served more than 2 million people of all ages and abilities, since its founding in 1989, offering workshops through more than 20 centers and offices across the US and around the world, as well as an extensive free library of articles, podcasts and blog posts online and low-cost publications that are used by hundreds of thousands of people every year. Kidpower is endorsed by hundreds of schools, organizations, and experts, including best-selling author Gavin de Becker, Police Chief Manny Solano, and the Child Protection Center at Children's Hospital & Research Center Oakland.
For more information or to interview Irene van der Zande, call 1-800-467-6997 or email "safety" at kidpower.org.