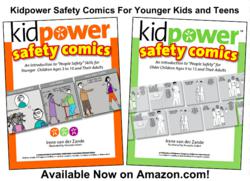 Organizations need to be so transparent that potential abusers would find them unappealing. Joyful, open environments where no unsafe secrets are tolerated make it much harder for pedophiles to operate.
Santa Cruz, CA (PRWEB) October 24, 2012
Child Safety Expert and Kidpower founder, Irene van der Zande, says Boy Scouts of America must stop fighting the release of its files on thousands of suspected abuse cases to show integrity and regain trust as a safe organization for children. Offering parents five key steps to protecting kids from sex abuse, van der Zande emphasizes that "problems should never be secrets" and that Boy Scouts and other organizations need to "put safety first - ahead of inconvenience, embarrassment or offense."
The Boy Scouts of America publicly released files Thursday, Oct. 18, by order of the Oregon Supreme Court, showing that "thousands of men (were) expelled from the Boy Scouts of America on suspicion of molesting children" between 1947-1985, according to a series of articles by Los Angeles Times reporters, Jason Felch and Kim Christensen.
Van der Zande responded Friday in the Kidpower.org blog, Put Safety First, calling the Boy Scouts response to the scandal: too little, too late. "As one looks back at how long they were aware that some of their volunteers were abusing kids, the steps taken so far seem to be much too late and still too little."
The lack of the additional files still unreleased for incidents since 1985 also raises red flags for van der Zande. According to the Associated Press, Portland attorney Kelly Clark, who is responsible in part for the files being revealed so far, says Boy Scouts is continuing legal battles to try to keep a "trove" of files secret.
"Boy Scouts of America's current practice of still fighting against making their files of suspected child molesters public conflicts with what they say they are now teaching the kids - that abusive behavior should not be a secret," says van der Zande. "Not releasing the rest of the files undermines parents and kids ability to trust scout leaders to follow-through in reporting suspected abuse."
"Organizations need to be so transparent that potential abusers would find them unappealing," says van der Zande. "Joyful, open environments where no unsafe secrets are tolerated make it much harder for pedophiles to operate."
Based on her review of the Boy Scouts of America child protection program, van der Zande says that the Boy Scouts efforts are also still missing a key element - teaching and practicing safety skills for kids and adults to "intervene in the moment to stop behavior that makes a child uncomfortable or breaks safety rules."
"The Boy Scout's Child Protection "Recognize, Resist, Report" program raises awareness and understanding for both adults and kids about unsafe behavior and what steps to take to report it," says van der Zande. "However, kids also need to be coached to rehearse boundary-setting and help-seeking skills in a safe, fun, age-appropriate way until these skills become habits."
In addition to many articles and books about child abuse prevention skills training, van der Zande shares the following "5 Kidpower Keys to Stopping Sexual Abuse:
1. Understand that child molesters often use charm, kindness, and generosity to build trust.
2. Be sure you know what your kids are doing when you are not with them.
3. Be prepared to speak up if anyone's behavior makes you uncomfortable and to put the safety of your kids ahead of embarrassing or upsetting anyone.
4. Teach kids not to keep problems, gifts, touch, or favors a secret.
5. Teach kids how to set boundaries on unwanted touch or unsafe behavior and how to be persistent in getting adult help."
"If you have a child involved in scouting, or any other youth program, make sure you stay aware and involved," writes van der Zande. "Make sure you teach kids and frequently practice self-protection skills such as setting and respecting boundaries; not keeping secrets; being persistent to get help with problems; and advocating for themselves and others when they have concerns."
About Author Irene van der Zande and Kidpower.org
Irene van der Zande has been featured as a child safety expert by USA Today, CNN, and The Wall Street Journal, is a sought-after consultant to schools and other organizations, and the primary author for Kidpower's books and personal safety training curriculum. Recent books include The Kidpower Book For Caring Adults, a comprehensive guide for adults interested in child protection and advocacy; and the Kidpower Safety Comic Series, which many families and schools use together in their child abuse prevention and other violence prevention training programs. She is also the founder of Kidpower (http://www.kidpower.org), whose programs are highly recommended by experts worldwide for taking a positive, skills-based approach to preventing abuse, kidnapping, bullying and other violence. Instead of using fear to teach young people about danger, the Kidpower Method™ makes it fun to learn to be safe, building habits that increase the skills and confidence of kids, parents, teachers and other caring adults that can last a lifetime.
Kidpower has served more than 2 million people of all ages and abilities, since its founding as a nonprofit organization in 1989, offering workshops through more than 20 centers and offices across the US and around the world, classroom curriculum for K-12 and the Kidpower.org library of free and low-cost articles, podcasts, videos, blog posts and publications that are used by hundreds of thousands of people every year. Visit http://www.kidpower.org for more information about "people safety" skills for children, teens and adults and training opportunities in your area.