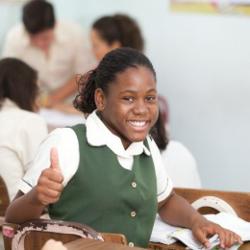 Teaching is a hard job, and most teachers do it with creativity, compassion, humor, love, and competence, in spite of challenges...
San Francisco, CA (PRWEB) May 24, 2013
Child safety expert and author, Irene van der Zande, offers parents seven tips for end-of-year gifts for teachers that can "show appreciation for the important role of teachers in a child's life." Van der Zande is the founder of Kidpower, a leading nonprofit providing personal safety skills education and resources, whose mission is to help people create cultures of caring, respect and safety.
"Teachers have an incredible impact on the emotional and physical safety of kids for many of their waking hours, and making a special gift at year's end is a way to express your appreciation for the role a teacher has played in your child's and your family's life," says van der Zande. "Meaningful gifts do not have to be expensive or cost money at all, but do require a little time and thought."
Van der Zande considers most teachers to be "everyday heroes who dedicate their lives to caring for and educating our children. Teaching is a hard job, and most teachers do it with creativity, compassion, humor, love, and competence, in spite of challenges from struggling kids, insufficient funds, competing priorities, and anxious parents. Most lead kids to build confidence and a belief in themselves as valuable people. As we tell our students at Kidpower, belief in ourselves is the strongest self-protection tool we each have!"
"And, in the moment of truth in an emergency, whether it is from violence as happened in Newtown or from nature's fury as happened in Moore, most teachers will bravely lead their students to the best shelter they can find; whisper reassurance, read them stories, and sing songs to help ward off terror; and throw their bodies over them to protect them from harm," write van der Zande.
As the school year comes to an end, van der Zande published on the Kidpower.org blog the following seven tips for parents to find or create "meaningful gifts to let teachers know how much you appreciate their commitment to the well being of your child."
1. Written memories about how they have made a difference. Instead of general acknowledgement, try to be as specific as possible. A few heartfelt lines about something your child said or something you noticed will be cherished for years to come.
2. A handwritten thank you note from you as a parent expressing what you have learned from your child's teacher or what this teacher has meant to you personally.
3. A thank you note or drawing that clearly comes from your child rather than being something you dictated. Teaching kids how to give time and effort as their gifts rather than just spending money will serve them their lives long.
3. An envelope with cash, universal movie tickets, or gift certificates for two to a favorite restaurant.
4. Three hours of time to help with year-end clearing out and cleaning up – or better yet, organizing several parents to help out while teachers grade papers so that they don't have so much to do after school is out.
5. A donation of a teacher's favorite book to the school library or public library with a note inside saying that this gift is in this teacher's honor.
6. A donation to an organization that you know is close to your child's teacher's heart in her or his honor.
7. The gift of easy-to-use books for the teacher such as the Kidpower Safety Comics that provide an entertaining way to introduce key "People Safety" concepts to children.
"Teachers are human and, like all of us, not perfect," writes van der Zande. "Of course, our job as parents is to advocate for our children and to speak up clearly, persistently, and respectfully when we have concerns. And, as we teach in Kidpower, 'You do not have to be perfect to be GREAT!'"
More articles from van der Zande, such as "Most Teachers Are Heroes: 9 Ways Parents Can Support Teachers in Building Positive, Safe Learning Environments" about the important roles teachers play in ensuring the safety of children, can be found on the Kidpower.org free library.
About Kidpower:
Kidpower is a non-profit leader in personal safety and confidence-building skills education, whose programs are highly recommended by experts worldwide for taking a positive, skills-based approach to preventing abuse, kidnapping, bullying and other violence. Kidpower workshops, K-12 safety curriculum, books, videos, and the Kidpower.org free resource library have helped to protect more than 2 million people, including those with special needs, from abuse, bullying and other violence since 1989.
Kidpower's founder and executive director, Irene van der Zande, has been featured as a personal safety expert by USA Today, CNN, and The Wall Street Journal. She is the author of The Kidpower Book for Caring Adults, a comprehensive guide for understanding personal safety, self-protection, confidence, and advocacy for young people; Bullying: What adults need to know and do to keep kids safe; and the Kidpower Safety Comic Series, which many schools use in their child abuse and violence prevention training programs.
Media contact: email "media (at) kidpower (dot) org" for more information or to request an interview.