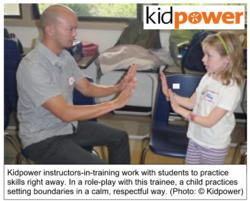 Santa Cruz, CA (PRWEB) October 03, 2012
Kidpower, a leading global provider of child safety training and educational curriculum, is accepting applications for the January 2013 Kidpower Comprehensive Program Training, open to adults interested in becoming Kidpower Instructors or starting a Kidpower center in their community.
"This is the program for people who are dedicated to child safety and the prevention of bullying, child abuse, kidnapping and other violence," says Kidpower Founder and Executive Director, Irene van der Zande. "And despite the sad realities of violence in childrens' lives - trainees can expect to have fun learning the Kidpower Positive Practice teaching method," she adds. "Instead of using fear to teach about danger, Kidpower makes it fun to learn to be safe!"
The annual Kidpower Comprehensive Program Training, which is a required part of the certification process to become a Kidpower instructor, will take place January 24th-29th, 2013 in Santa Cruz, CA, Kidpower's international headquarters.
Kidpower is accepting applications immediately until Nov. 15, 2012. However, training spots will be filled as applications are reviewed and accepted, which means that spots may fill earlier than the application deadline. For detailed information on the application process go to Kidpower's website: http://www.kidpower.org/what-we-do/instructor-training/
"People who are interested in the training should not delay," says van der Zande. "Those accepted into our training program immediately become part of our international community of leaders who are dedicated to safety and empowerment for all ages and abilities – and begin receiving support right away in getting ready to teach Kidpower."
Kidpower has more than 20 centers in the US and other countries, and has provided safety education to protect more than 2 million people from bullying, abuse, kidnapping and other violence. "People come from all around the world to our international comprehensive trainings," says van der Zande.
Van der Zande shares more information about instructor training and a recent "success story" from a parent, which she says shows the impact a Kidpower program can have, on the Kidpower.org Put Safety First blog: "Here's a story from a father about how his little girl used skills she practiced just weeks earlier in a 50-minute Starting Strong Kidpower class for 3- to 5-year-olds and their grown-ups:
"'I took my four-year-old daughter to a restaurant with a nice outdoor seating area overlooking a little creek area. While we were waiting for our food, I told her she could play since it was grassy and right where I could see.
My little girl came back and pulled on my arm. "I am checking first, Daddy," she said. "Come and see."
I didn't want to go, since I couldn't see anything she needed to check first for – but she persisted, "It's about safety, Daddy!"
Reluctantly, I followed my daughter to the edge of the grassy area. To my horror, about 20 feet from where I had been sitting, the grass was hiding a mess of broken bottles, used condoms, and needles. Worse yet, an unconscious man was lying on the ground next to the creek.
I picked up my daughter and ran to tell the manager of the restaurant, who called 911. The unconscious man apparently had had a drug overdose and was rushed to the hospital by the paramedics.
My daughter and I were given royal treatment by the restaurant patrons and staff, and we had a nice dinner.
While I felt freaked out, I remembered Kidpower's advice to act calmly – and my daughter found the whole experience to be interesting rather than awful. After all, she just used her Kidpower! So there was nothing to worry about, right?'"
To learn more about how to become an instructor or start a center, read about Kidpower's Instructor Training and Center Development programs, which detail the application process.
About Kidpower
Irene van der Zande has been featured as a child safety expert by USA Today, CNN, and The Wall Street Journal, a sought-after trainer and consultant to schools and other organizations, and the primary author for Kidpower's books and personal safety training curriculum. She is the founder of Kidpower (http://www.kidpower.org), whose programs are highly recommended by experts worldwide for taking a positive, skills-based approach to preventing bullying, abuse, kidnapping and other violence.
Kidpower has served more than 2 million people of all ages and abilities, since its founding as a nonprofit organization in 1989, offering workshops through more than 20 centers and offices across the US and around the world, classroom curriculum for K-12 and the Kidpower.org library of free and low-cost articles, podcasts, videos, blog posts and publications that are used by hundreds of thousands of people every year. Visit http://www.kidpower.org for more information about "people safety" skills for children, teens and adults and training opportunities in your area.