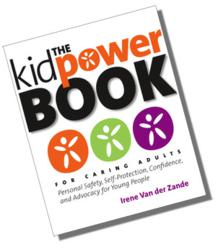 "Inclusiveness and understanding of differences is essential to our vision of working together to create cultures of caring, respect, and safety for everyone, everywhere."
San Francisco, CA (PRWEB) June 19, 2012
Kidpower, a nonprofit leader in violence prevention education and personal safety training for all ages, has launched a new LGBTQ Safety section on its Kidpower.org website, including seven safety tips for adults who are attending PRIDE festivities.
"We promote inclusiveness and understanding of differences as essential to our vision of working together to create cultures of caring, respect, and safety for everyone, everywhere," says Irene van der Zande, founder and executive director of Kidpower. "For this reason, we have an LGBTQ Safety section on our new website and I published seven safety tips to help LGBTQ community members and their allies celebrate PRIDE festivities safely and with confidence."
"Unfortuately, violence because of someone's sexual orientation and identity is still sometimes not understood as being just as much of a hate crime as violence due to other forms of prejudice," says van der Zande. "Everyone deserves know how to make safe choices, de-escalate conflict, defend oneself, and get help — skills that can prevent most emotional and physical violence."
PRIDE Week has started in the San Francisco Bay Area, prompting van der Zande to write a "Put Safety First" blog post with the following seven safety strategies to for staying safe while celebrating at PRIDE and other big public events:
1. Put Safety First. Your safety is more important than embarrassment, inconvenience, or offense to yourself or others.
2. Assess Situations Realistically. Don't fall into the traps of the "Illusion of Safety" or thinking, "But It's My RIGHT!" Notice when something "doesn't feel right," and pay more attention rather than dismissing the feeling. Think First before doing something risky just because you are filled with a a sense of even justified outrage. (See #1!)
3. Use Target Denial. Target Denial means staying aware of your surroundings, noticing who and what is going on around you and moving out of reach or leaving before trouble starts. Be willing to change your plan if a situation starts to become unsafe. Don't let yourself operate on automatic pilot, assuming that a big crowd or a even quiet corner is, or will remain, safe. This also means that even during PRIDE week, you still want to Think First before you wear your Gay Pride tee shirt or hold hands around people who you believe may be likely to react with violence.
4. Stay Centered. Manage your emotional triggers so you can act aware, respectful, calm, and confident even if someone is being rude or threatening. Take a step back and give yourself a moment to breathe and look around, make sure you are balanced on your feet and that your hands are open, calm and available to you – either down by your sides or up and close to the front of your chest like a fence, or together in a "Namaste" type of gesture.
5. De-escalate. If someone is threatening or trying to pick a fight, say whatever you need to say in order to leave in a peaceful way. You do not owe an attacker the truth. Be willing to lie in order to leave a threatening situation safely or even to apologize for upsetting someone, even if this is totally unfair. Don't let anyone bait you into a fight or other unsafe actions that might give them more privacy or control.
6. Set Boundaries. When it is reasonably safe to do so, speak up about prejudice in a powerful, respectful way that does not attack others even if they are rude and insulting. Think about the pros and cons of speaking up in this particular moment. Life is not risk free and we have to take some risks in order to advocate for ourselves and others. At the same time, sometimes speaking up makes things worse and leaving and getting help might be a more effective strategy to use.
7. Get Help. Remember that safety is with safe people, and not just a safer location. You have the right to interrupt busy people, and to make them uncomfortable, in order to protect yourself and to get support to stop a situation that is unsafe. Be prepared to be persistent if someone doesn't listen at first. If one person doesn't help, find another who will. Even if the immediate problem has stopped, still get help and support from people you trust.
"We frequently hear stories of how someone getting help for themselves also had the effect of helping others avoid the same or similar problems," writes van der Zande. "We hope people will use these strategies to get the most out of their PRIDE celebrations and stay safe all year round."
About Irene van der Zande and Kidpower:
Irene van der Zande is the Founder and Executive Director of Kidpower Teenpower Fullpower International. Her new book, "The Kidpower Book for Caring Adults: Personal Safety, Self-Protection, Confidence, and Advocacy for Young People," with a foreword by Gavin de Becker, is the most comprehensive resource available for parents, teachers, and other adults who care about protecting children and teens from bullying, child abuse, abduction, and other violence and want to learn how to empower young people with skills for taking charge of their emotional and physical safety. Van der Zande is available for interviews or to provide guest blog posts. Kidpower services include educational resources, workshops, and consultation on how to create cultures of caring, respect, and safety for everyone, everywhere. Contact safety(at)kidpower(dot)org with requests for interviews, resources or permission to use requirements.
Kidpower Teenpower Fullpower International®, known as Kidpower®, is highly recommended by experts worldwide for taking a positive, skills-based approach to bullying, violence, abuse and kidnapping prevention. Instead of using fear to teach young people about violence prevention, the Kidpower Method™ makes it fun to learn to be safe, building habits that increase the skills and confidence of kids, parents, teachers and other caring adults that can last a lifetime.
Kidpower has served more than 2 million people of all ages and abilities, since its founding as a nonprofit organization in 1989, offering workshops through more than 20 centers and offices across the US and around the world, as well as an extensive free library of articles, podcasts and blog posts online and affordable publications that are used by hundreds of thousands of people every year. Visit http://www.kidpower.org for more information about people safety for children, teens and adults and training opportunities in your area.