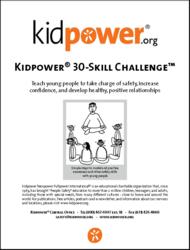 I loved the simple, step-wise approach to this program because I could use it with any client regardless of his or her skill set or starting point in awareness of personal safety.
Santa Cruz, CA (PRWEB) March 22, 2012
Kidpower®, the nonprofit leader in "People Safety" education, challenges adults to stop worrying and start taking action to prevent child abuse by teaching simple skills that kids can use to have safe, positive experiences with people.
"Worry can't keep kids safe – but skills can," says Irene van der Zande, executive director and founder of Kidpower Teenpower Fullpower International (known as Kidpower for short). "We created the Kidpower 30-Skill Challenge™ teaching tool and are offering it as a free e-book to adults who are willing to take our challenge - to share these powerful safety skills with young people and help them take charge of their safety, increase their confidence and develop healthy, positive relationships."
Kidpower is offering the Kidpower 30-Skill Challenge™ e-book for free through their website, http://www.kidpower.org, through the end of April, 2012 in honor of Child Abuse Prevention Month. Each short lesson can be taught as a safety skill-building activity in classrooms, youth groups, youth sports teams and at home.
"Parents, teachers, counselors and youth leaders need to to be encouraged and supported — no one is in a better position to bring safety skills to the children and teens in their lives than they are," says van der Zande. "So we created this step-by-step, teaching tool with engaging illustrations that shows how to make practicing and discussing safety skills with kids easy and fun."
Suzanne Quijano, an elementary school counselor who does therapy with mainstream and special needs students participated in Kidpower's original Skill-A-Day Challenge in 2011 for Child Abuse Prevention Month. "I was really glad to have the 30-Skills program added to my arsenal last year," says Quijano. "I loved the simple, step-wise approach to this program because I could use it with any client regardless of his or her skill set or starting point in awareness of personal safety. I have used this program with at least 40 individual kids in the past year, and it has been really great to see them grow in their ability to set boundaries and manage themselves more positively in their personal relationships at school and at home."
The Kidpower 30-Skill Challenge started out in 2011 as a Skill-A-Day email & blog posting for Child Abuse Prevention Month, which helped more than 1,000 kids directly. Van der Zande encourages adults to teach a safety skill to a child whenever and wherever they have the chance. "Teaching face-to-face isn't always possible, but the e-book is easy to use to teach skills over the phone, video chat, and email as well as in a classroom."
Instead of using fear to teach about violence prevention, Kidpower makes it fun to learn to be safe. "Don't forget to have fun — people of any age learn better when they're having fun," says van der Zande. "Safety is a foundation for fun. Kids can't have fun if they don't feel safe — and kids who feel safer and more confident are better prepared to make the most of their days, learn more easily, and enjoy their relationships."
Additional free resources available from Kidpower for Child Abuse Prevention Month Activities include:
— The Kidpower Coloring Book, available for free download in English, Spanish and Dutch.
— "Child Abuse Prevention in Youth Sports," A Kidpower webinar series for youth sports leaders, coaches and parents, created with the Positive Coaching Alliance in February 2011.
— The Kidpower Blog and a Library of Free Child Abuse, Bullying and Violence Prevention articles, podcasts and resources.
About the Author, Irene van der Zande, Kidpower Executive Director and Founder
In 1985, Irene van der Zande was a young mother, a new author, and a community organizer. Suddenly, in the middle of the day, with people standing all around, van der Zande protected a group of young children, including her seven-year-old daughter and her four-year-old son, from a man who was threatening to kidnap them. Having that experience left van der Zande with a lot of fear, so she took a self-defense class. Realizing that she couldn't be with her own children all the time, and that she wanted all children to be safe, she collaborated with educators, law enforcement experts, mental health professionals, martial artists, and other parents to develop programs for teaching personal safety and violence prevention that are empowering, fun, and effective, establishing Kidpower as a nonprofit organization in 1989.
For more than two decades, van der Zande has led Kidpower as its executive director, founder, and primary author.  In addition to many articles and training manuals, her publications include "1, 2, 3 ... The Toddler Years" (with a foreword by Magda Gerber), "Bullying – What Adults Need to Know and Do to Keep Kids Safe," "The Kidpower Book for Caring Adults," "The Fullpower Relationship Safety Handbook," a cartoon-illustrated "Safety Comics" series and "Kidpower Teaching Kits" with evidence-based, K-12 curriculum in easy lesson plans for elementary, high school and transitional program classroom instruction.
Van der Zande and Kidpower have been featured on ABC TV View from the Bay, USA Today, the San Jose Mercury News, Bay Area Parent, Supernanny USA, and CNN, among others.
About Kidpower
Kidpower Teenpower Fullpower International®, known as Kidpower® (http://www.kidpower.org), is highly recommended by experts worldwide for taking a positive, skills-based approach to bullying, violence and abuse prevention. Instead of using fear to teach young people about violence prevention, the Kidpower Method™ makes it fun to learn to be safe, building habits that increase the skills and confidence of kids, parents, teachers and other caring adults that can last a lifetime.
Kidpower has directly served more than 2 million people of all ages and abilities, since its founding in 1989, offering workshops through more than 20 centers and offices across the US and around the world, as well as an extensive free library of articles, podcasts and blog posts online and low-cost publications that are used by hundreds of thousands of people every year. Kidpower is endorsed by hundreds of schools, organizations, and experts, including best-selling author Gavin de Becker, Police Chief Manny Solano, and the Child Protection Center at Children's Hospital & Research Center Oakland.
Kidpower's newest global initiative is the "One Million Safer Kids" campaign which has the goal of making at least one million young people safer from bullying, violence, and abuse through greater awareness, action, and skills by July 1, 2016 or sooner.