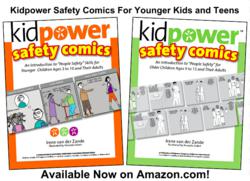 Before I could even look at my copy of the Older Kids Safety Comics, my 11-year-old took it from me and read it cover to cover. What a great endorsement about how much kids want this information!
Santa Cruz, CA (PRWEB) September 27, 2012
Kidpower, a leading non-profit in child safety skills education, makes two of its most popular safety publications, the cartoon-illustrated Kidpower Safety Comics - one for younger children and another version for older children and teens - available on Amazon.com.
"We wanted to release these in time for October's Bullying Awareness and Prevention Month in the US," says author Irene van der Zande, Kidpower's Founder and Executive Director. "This way families and teachers can have these two comic books easily available to help them teach skills that can stop bullying, abuse and other safety problems in a way that's really fun and engaging for the kids."
"I was looking for a fun way to help my daughter be safe and take care of herself," says Eve Margolis, a mother who found an earlier edition on the Kidpower.org bookstore. "The Safety Comics provided an easy way to talk about topics that could otherwise be scary. My daughter enjoyed Kidpower so much that we practiced all the time, and her friends started joining us."
Parents and educators have been able to get the Kidpower Safety Comics since 2005 through Kidpower's personal safety workshops or online at the Kidpower.org bookstore. "Now it's so much easier to get them," says van der Zande. "Amazon lets us make the books available to more families and teachers, with lower costs to them and for us."
While originally intended for adults to share and read with kids, the author "warns" that kids have been known to keep the book for themselves. "I've had parents tell me they might need to get a second copy," says van der Zande. "Recently a parent wrote to us, 'Before I could even look at the Older Kids Safety Comics, my 11-year-old took it from me and read it cover to cover. What a great endorsement about how much kids want this information!"
The Kidpower Safety Comics for Younger Children shows age-appropriate stories for preschoolers through third grade students to address issues such as using "hands down power" instead of hitting, using "mouth closed power" instead of saying mean words, getting help from busy adults, stranger safety and making safety plans for problems like getting lost in the store.
The Kidpower Older Kids Safety Comics for middle school through teens offers even more stories to help stop bullying, how to set and respect boundaries, dealing with peer pressure, safety on the Internet, and making safety plans for older kids to handle increased independence and responsibilities such as going to and from school on their own.
Both Kidpower Safety Comics are now available on Amazon's US, UK, Germany, France and Italy sites, along with The Kidpower Book For Caring Adults, a comprehensive guide for adults on child protection and advocacy and Bullying: What Adults Need To Know And Do To Keep Kids Safe, also by van der Zande. "As a truly international organization, wider availability was a huge incentive for us in deciding to make the updates to the Safety Comics so they could be easily available on Amazon in the US and in other countries," van der Zande added.
The Kidpower Safety Comics were illustrated by Amanda Golert, Director of Kidpower's Swedish Center, who also has recently translated and released the Kidpower Safety Comics for younger children in Swedish, available from that center. A bi-lingual version of the Kidpower Safety Comics in English and Spanish is available at the Kidpower.org online bookstore.
About Author Irene van der Zande and Kidpower
Irene van der Zande has been featured as a child safety expert by USA Today, CNN, and The Wall Street Journal, a sought-after consultant to schools and other organizations, and the primary author for Kidpower's books and personal safety training curriculum. She is also the founder of Kidpower (http://www.kidpower.org), whose programs are highly recommended by experts worldwide for taking a positive, skills-based approach to preventing bullying, abuse, kidnapping and other violence. Instead of using fear to teach young people about danger, the Kidpower Method™ makes it fun to learn to be safe, building habits that increase the skills and confidence of kids, parents, teachers and other caring adults that can last a lifetime.
Kidpower has served more than 2 million people of all ages and abilities, since its founding as a nonprofit organization in 1989, offering workshops through more than 20 centers and offices across the US and around the world, classroom curriculum for K-12 and the Kidpower.org library of free and low-cost articles, podcasts, videos, blog posts and publications that are used by hundreds of thousands of people every year. Visit http://www.kidpower.org for more information about "people safety" skills for children, teens and adults and training opportunities in your area.
Press Contact:
media(at)kidpower(dot)org