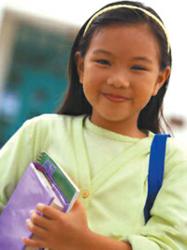 Getting off to a poor start can be like starting to twist on a jar lid the wrong way — it's usually fixable, but takes some effort to get unstuck and start over.
Santa Cruz, CA (PRWEB) August 29, 2012
Kidpower, a nonprofit leader in child safety education and confidence skills training, has published a new free article with seven steps to start school "strong, safe and sound" — in response to many questions from parents and teachers around the beginning of the school year, looking for help to give kids a better start.
"The first weeks of a new school year can be an exciting and anxious time," says Irene van der Zande, Kidpower founder. "Children may be thinking or saying:
"It will be nice to see my friends."
"I hope the teacher likes me."
"I hope the other kids like me."
"I hope it won't be too hard."
"I am worried about that kid who picked on me last year."
"I am sad that summer is over."
Van der Zande says that most of the parents she hears from have mixed feelings about the start of a new school year. "As adults, we know that having a positive beginning for any new experience sets the stage for success. An unhappy beginning to a school year can be very upsetting for everyone."
Her new article, Starting School - The Kidpower Way: 7 Steps to Start School Strong, Safe and Sound, offers detailed steps for parents to plan and practice communication and safety skills with their kids, as well as advice to help support teachers — all aimed at helping children start the school year off so they can be "strong, safe and sound at school, and everywhere they go."
The "7 Steps To Start School Strong, Safe and Sound" summarized below are spelled out with more "how-to" information and examples in the article on Kidpower.org's free online library:
1. Take a realistic look at your child's emotional school-readiness.
"Qualities like being more sensitive or less sensitive, more outgoing or more reserved, louder or quieter, are all normal and have both benefits and potential liabilities," writes van der Zande. "The sooner children can learn to be in charge of their qualities so these are gifts instead of problems, the happier and more successful they will be – not only in school, but in life."
2. Be clear about both safety and learning expectations.
Van der Zande advises: "Tell your child clearly, 'I expect you to feel respected and safe at school. And I expect you to act in safe and respectful ways towards others.' Be explicit about what this means, using specific examples relevant to your child."
3. Make a plan for potential problems.
"Children can suddenly find themselves struggling with some academic subject or having emotional or social problems with someone in their circle of friends," says van der Zande. "Explore ways to make learning and interacting with friends easier. Sometimes children need major support, but often a little bit of help can make a huge difference."
4. Stay in touch with what is going on at school.
"Many children are tired of school by the time they get home and don't give much information when asked general questions like, "How was school today?'" writes van der Zande. "At the same time, most children like to share what's going on in their lives if they are listened to without being lectured or having to hear negative comments about themselves, their school, or their friends."
5. Offer support to your child's teachers and schools.
"Teaching is a hard job and schools face many challenges," says van der Zande. "Supporting teachers and not taking them for granted - all year long - is vital to helping kids have a good experience at school." Offering another new article: "Most Teachers Are Heroes! 9 Ways Parents Can Support Teachers In Building Safe, Positive Learning Environments," van der Zande also shares comments about working to support teachers on Kidpower's Put Safety First blog.
6. Prepare your children to set boundaries and to advocate for themselves.
"In an ideal world, people would always be kind to each other rather than being mean to each other. However, even people who really care about each other annoy and bother each other sometimes," writes van der Zande. "Rehearsing how to handle specific problems will help to increase confidence, reduce anxiety, and build competence. For example, you can teach children how to protect themselves emotionally from insults...You can also teach children to project an attitude of confidence. We are all more likely to be listened to and less likely to be targeted for bullying if we greet the world with awareness, calm and confidence. "
7. Advocate for your children when things go wrong.
"Remember that, as parents, our job is to make sure that our children are in places that are emotionally and physically safe and with people who are creating a supportive, effective learning environment," writes van der Zande. "If something goes wrong, be prepared to advocate in a respectful, powerful way for your child."
The full article, Starting School - The Kidpower Way: 7 Steps To Start School Strong, Safe and Sound, provides details and examples to show how to plan and practice each of the above steps.
A second new article, Most Teachers Are Heroes! 9 Ways Parents Can Support Teachers In Building Safe, Positive Learning Environments, "addresses the many ways that parents can support teachers in order to avoid most problems," says van der Zande. "And also more on how to address problems as they come up during the school year."
About Irene van der Zande and Kidpower.org:
Irene van der Zande has been featured as a child safety expert by USA Today, CNN, and The Wall Street Journal and is the author of several books, including The Kidpower Book for Caring Adults and Bullying: What Adults Need to Know and Do to Keep Kids Safe. She is also the founder of Kidpower.org, a non-profit leader in personal safety skills education, which has helped to protect more than two million young people from abuse, bullying and kidnapping since 1989.