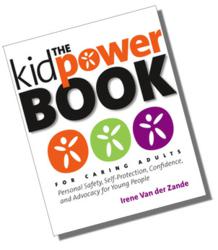 Parents are often confused about how to balance their children's need for independence with protecting their children from harmful people.
Santa Cruz, CA (PRWEB) May 31, 2012
Summer is supposed to be a chance to explore and play as many children have a long break from school. But as details are released by the New York police about a suspect in the 33-year-old case of missing child, Etan Patz, parents might wonder if their own children are ready to yell and run in the heat of the moment, when they are out walking or playing on their own, if anyone attempts to harm them.
"Vacations, camp, overnights, outings to amusement parks, or increased outdoor adventure time can be wonderful experiences," says Irene van der Zande, founder and executive director of Kidpower, a non-profit leader in child advocacy and safety education.
"And it can all be much more enjoyable when children have practiced basic safety skills to know how and when to yell, run to safety and get help if they feel uncomfortable or scared."
Last week New York police announced the arrest of a suspect in the killing of Etan Patz, who disappeared 33 years ago while walking two blocks from his home to the bus stop, and became one of the most publicized unsolved cases of missing children in American history, according to the New York Times.
"Despite all the awareness that Etan's heart-breaking story has raised, even all these years later, too many children are still tricked, confused, tempted, or frightened into going with the wrong person, and too many of them are still missing or are dead," says van der Zande. "Parents are often confused about how to balance their children's need for independence with protecting their children from harmful people."
In his foreword to van der Zande's new "Kidpower Book for Caring Adults: Personal Safety, Self-Protection, Confidence, and Advocacy for Young People," best-selling author and violence prevention expert, Gavin de Becker, provides a set of guidelines that can help to reduce this confusion:
"The Test of Twelve... is a list of skills that children would ideally know before they are ever alone in public or on their own without the protection of their adults. Do your children know…
1.  How to honor their feelings – if someone makes them uncomfortable, that's an important signal;
2. You (the parents) are strong enough to hear about any experience they've had, no matter how unpleasant;
3.  It's Okay to rebuff and defy adults;
4.  It's Okay to be assertive;
5.  How to ask for assistance or help;
6.  How to choose whom to ask for help;
7.  How to describe their peril;
8.  It's Okay to strike, even to injure, someone if they believe they are in danger, and that you'll support any action they take as a result of feeling uncomfortable or afraid;
9.   It's Okay to make noise, to scream, to yell, to run;
10. If someone ever tries to force them to go somewhere, what they scream should include, "This is not my father" (because onlookers seeing a child scream or even struggle are likely to assume the adult is a parent);
11. If someone says "Don't yell," the thing to do is yell (and the corollary: If someone says "Don't tell," the thing to do is tell);
12. To fully resist ever going anywhere out of public view with someone they don't know, and particularly to resist going anywhere with someone who tries to persuade them."
"Kidpower provides extensive tools that further the ability of parents and other caring adults to prepare children to pass each of the milestones on this test," writes de Becker, a worldwide expert on the prediction and management of violence and author of "The Gift of Fear" and "Protecting The Gift."
Van der Zande encourages parents to make learning and practicing safety skills a top priority, especially as families have transitions in schedule and daily routines this summer and all year round. "Recently we had an eight-year-old girl in a Kidpower workshop who we coached to practice moving away and checking first if a stranger picked up her bike."
"The girl protested, saying she would not give up her bike," says van der Zande. "We told her that she was more important than her bike and her mother spoke up to say she'd get a new bike if someone took it and she practiced again.
"A week later, her mother saw from the window that a van had stopped by their house and a man got out and picked up the girl's bike where she'd left in on the sidewalk. The mom told us that as she was heading to the door, she heard the man call to her daughter to come and get the bike. Instead, the little girl ran inside to get her mother. As the mother came out the door, the man got back in the van and drove off."
"We were so grateful to hear that she had practiced these and other Kidpower skills with us and that it helped her avoid trouble right in her own front yard," says van der Zande.
About Irene van der Zande and Kidpower:
Irene van der Zande is the Founder and Executive Director of Kidpower Teenpower Fullpower International. Her new book, "The Kidpower Book for Caring Adults: Personal Safety, Self-Protection, Confidence, and Advocacy for Young People," with a foreword by Gavin de Becker, is the most comprehensive resource available for parents, teachers, and other adults who care about protecting children and teens from bullying, child abuse, abduction, and other violence and want to learn how to empower young people with skills for taking charge of their emotional and physical safety.
Kidpower Teenpower Fullpower International®, known as Kidpower® (Kidpower.org), is highly recommended by experts worldwide for taking a positive, skills-based approach to preventing bullying, violence, abuse and kidnapping. Instead of using fear to teach young people about danger, Kidpower makes it fun to learn to be safe, building habits that increase the skills and confidence of kids, parents, teachers and other caring adults that can last a lifetime.
Kidpower has directly served more than 2 million people of all ages and abilities, since its founding as a nonprofit organization in 1989, offering workshops through more than 20 centers and offices across the US and around the world, as well as an extensive free library of articles, podcasts and blog posts online and low-cost publications that are used by hundreds of thousands of people every year. Visit Kidpower.org for more information about people safety for children, teens and adults and training opportunities.