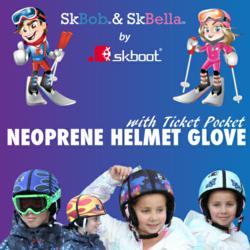 The Neoprene Helmet Glove with ticket pocket, provides cool style and functionality for kids who love to ski or snowboard.
Park City, UT (PRWEB) September 27, 2012
Skboot's Neoprene Helmet Glove with ticket pocket is an innovative ski helmet cover for kids and can be found at http://www.skboot.com
Skboot has launched the delightful SkBob and SkBella range of kid's ski accessories. The Neoprene Helmet Glove with ticket pocket provides cool style and functionality for children who love to ski or snowboard.
The ticket pocket is an outstanding feature and due to the location on the helmet glove, enables automatic lift scanners to read passes more easily. Passes are most commonly placed in ski pant pockets and children often find it difficult to activate the scanners without help from mom, dad or ski instructors.
Each SkBob and SkBella Helmet Glove is made from high quality, 3mm waterproof and weather-resistant neoprene. The neoprene sheds water like a duck, making the Neoprene Helmet Glove the ideal protection for a child's ski helmet against snow and rain. The quality and thickness of the product provides added warmth against the elements.
No longer will ski goggles slip down over slippery helmet surfaces. Ski goggles sit over the Neoprene Helmet Glove, staying firmly in place.
For young skiers and snowboarders who dare to be different, the bright colors and designs are ideal. Skiers are able to match their existing ski outfit or stand out from the crowd with contrasting, bold colors. Parents will love them too as their children will be easier to identify on the slopes.
Caroline Graham, Founder and Director of Skboot says "I came up with the idea of the Neoprene Helmet Glove pretty soon after I developed the Skboot ski boot bag. Whilst working at a local ski area I realized that children often found it difficult to get through the automatic lift gates, because their passes were located too low in proximity to the scanners. The 'ticket pocket' is a fantastic feature that eliminates this issue; the passes are stored snugly in the helmet allowing easy access and easy readability by scanners."
The SkBob and SkBella Neoprene Helmet Glove with ticket pocket is an innovative range of ski helmet accessories, made just for kids, created by Skboot.
Skboot is based in Park City, Utah and manufacturers a high quality range of ski boot bags and helmet accessories. Caroline Graham is the Founder and Head Designer of Skboot, incorporating the company in Australia in 2009. Skboot has steadily increased their market share, providing innovative snow sport products and accessories to snow lovers throughout the US, Australia and Europe. In 2010 Caroline relocated Skboot to Park City, Utah.
Currently the number #1 site in Australia when searching for ski boot bags, Skboot is on the fast track to increase their market share in the US.