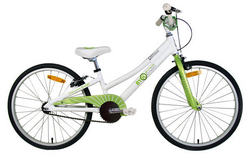 Compared to a normal bike, the ByK design cuts around thirty per cent off the time and distance from push-off to getting balance; and the low centre of gravity design provides excellent stability at cornering, stopping, and at low and high speeds
Melbourne, Victoria (PRWEB) March 4, 2009
An innovative Australian designed kids' ergonomic bike range is set to become the bike of choice for children, as news of its availability filters through the market.
Just launched in Australia, the world release of the new ByK (pronounced by-kay) brand of kids' bikes has a revolutionary ergonomic design which is already attracting great interest from parents of children aged from three to eight.
With safety as its number one priority, the ByK bike range is unabashedly designed to be the best kids' bikes on the World market with a standard of safety and function that is unmatched by any other brand.
The Melbourne-based owner and designer, Warren Key, has been in the retail bike business for over 25 years. With children now aged 2, 6, and 8, he was daily reminded of the frustrations of parents and kids seeking an easy-riding, easy-handling, and safe bike. Warren took up the challenge and over the last few years he has bridged the lag in the design of kids' bikes. The outcome is a kids bike range that is dramatically different from other designs. And just like Tour de France bikes, the ByK bikes have a very low overall weight. At just 1.2 kg, the lightweight alloy frame is easy to ride and manoeuvre.
Amongst the many significant advantages, one notable improvement over other brands is the shorter distance it takes for a new rider to get the bike up to balance speed.
"Compared to a normal bike, the ByK design cuts around thirty per cent off the time and distance from push-off to getting balance; and the low centre of gravity design provides excellent stability at cornering, stopping, and at low and high speeds," said designer Warren Key.
"In fact our design ensures a safe kids' bike at all speeds. Besides the fundamental advantage of the low centre of gravity design, there are many other safety advantages, including:

A longer wheel base for more predictable and safer handling;
Footbrake and handbrakes are standard but superior to the usual run-of-the mill brakes on kids' bikes - special child-specific brake components are incorporated that fit small hands and have reduced flex for best level braking."
Warren Key believes that the ergonomic bike design and fitted parts allow the rider to feel much more comfortable and happier, increasing the joy of riding a bike that handles superbly, not to mention the delight of parents knowing that they have provided the safest bike on the market for their kids. Add to that more efficient wheels and tyres with lower rolling resistance, and the ByK Bike, with its great colours, is set to be the boldest and coolest bike around for really cool kids.
###