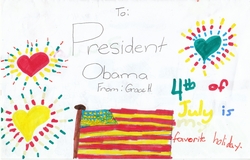 kidthing's technology allows these digital kids to share their hopes and ideas in an exciting new digital way.
Los Angeles, CA and Washington, DC (Vocus) January 7, 2009
kidthing and the National Education Association (NEA) proudly announce The Dear Mr. President Project - a collaborative project that provides kids and classrooms the chance to share their hopes, dreams and ideas with President-elect Barack Obama.
Now through January 20, 2009 children will be asked to submit their ideas to kidthing in the form of letters or drawings to our 44th President. kidthing and the NEA will assemble the top 50 submissions into the first ever Dear Mr. President digital book to be unveiled on Presidents' Day, February 16, 2009. In addition to the free digital copy, a limited edition printed copy will be sent to the White House. Teachers, parents and kids can learn more at http://www.kidthing.com/DMP.
The NEA is making Dear Mr. President the centerpiece of their Presidential Inauguration education program for school children across the country. As part of this program, the NEA's 3.2 million members will be engaging children in a national dialogue about democracy and citizenship during the Inaugural month of January.
kidthing, the company which created the first and only downloadable media player just for kids, is announcing Dear Mr. President as the first in a collaborative series called ConnectingKids for 2009. Designed to create community among kids, ConnectingKids projects will provide opportunities for children to share their ideas with each other in a safe and secure way at kidthing. The Dear Mr. President project fosters active citizenship among children, using the power of the Internet in kidthing's protected environment.
"This is an incredible moment in our country's history and an opportunity to engage our youngest citizens in a dialogue with our new President. President-elect Obama is the most digital President yet, and Dear Mr. President empowers today's most digital generation to share with him. " said Larry Hitchcock, kidthing CEO. "kidthing's technology allows these digital kids to share their hopes and ideas in an exciting new digital way."
kidthing is also the exclusive digital partner of the NEA's Read Across America program (http://www.kidthing.com/nea). As part of this award-winning literacy program, kidthing offers teachers free digital versions of selected titles featured in the Read Across America calendar for use classrooms each month.
About kidthing:
kidthing is the first and only free digital media player made just for kids. Created by parents, kidthing provides a safe haven for kids to play and learn away from web browsers and ads. kidthing's store is filled with a wide variety of fun and engaging products- digital animated books, interactive games, activities and videos from some of the world's leading brands. Parents can preview and buy affordable products with prices starting at under a dollar. (kidthing also provides some free content for parents.) Once purchased, content is automatically downloaded to the kidthing player and can be viewed anytime and anywhere - without needing to be connected to the Internet. kidthing is based in Los Angeles. Visit kidthing at http://www.kidthing.com.
About NEA's Read Across America:
NEA's Read Across America is a year-round literacy campaign designed to motivate children to read by making it fun. Read Across America Day, the campaign's signature event, is celebrated on or around March 2, the birthday of Dr. Seuss, the beloved children's book author. The award winning literacy program is sponsored by the 3.2 million-member National Education Association, Dr. Seuss Enterprises, L.P., and more than 50 national partner organizations. Since its inception in 1997, NEA's Read Across America has grown into the nation's largest reading celebration with more than 45 million people participating annually. For more information, visit http://www.nea.org/readacross.
Contacts:
For kidthing
Karin Olsen
AMAZONpr
310-497-0052
karin(at)amazonpr.com
###