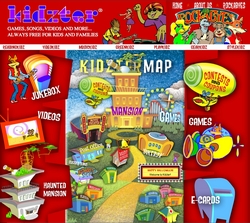 Sausalito, CA (PRWEB) October 19, 2009
Exactly 100 years ago this Halloween, "Mad Professor" Rock was struck by lightening while conducting his latest symphony on the roof of his Mill Valley home and became the first of many musical ghosts to inhabit his Haunted Mansion. So goes the "back story" of the Haunted Rock & Roll Mansion virtual world that is at the heart of Kidzter.com, a musical theme park that launches this Halloween, the centennial of Professor Rock's unfortunate accident.
Kidzter.com is a free site hosted by an animal character rock band, the Rockabyes, voiced by legendary rock stars including Maria Muldaur and Marty Balin of Jefferson Starship fame with musical support from Huey Lewis and Pete Sears among many others. The site includes hundreds of games, videos, songs & stories, shopping guides, musical education and much much more.
Check it out at http://www.kidzter.com
Media Room at: http://media.kidzter.com/
The Mansion with its ghosts of rock & roll past is the center point of the theme park. New kids to the site register to get their place in the mansion where they begin an adventure with customizable avatars, music jam applications, virtual dress-up games and much more, all in one safe and energy packed virtual theme park.
Kids visiting kidzter.com will enjoy interacting with other members as well as playing educational applications such as:

In The Jukebox, kids can play their favorite tunes and children's bands share and sell their songs.
The Music School hosts a nationwide database of music teachers and features a different teacher every month.
The Battle of the Bands is a multiplayer quest game in which, kids build their bands and compete against one another.
The Rockabyes Babies DressUp game lets kids customize and send their own eCards by dressing the Rockabyes Babies, choosing a background and writing captions.
Send eCards from a premade selection of cards.
Kidzter's selection of games has been screened to select only the best games from the web.
Kidzter has its very own youTube®-like Video Channel. Upload and share and discuss Videos.
The Rockabyes and other characters blog and host their hand-selected items from shops such as eBay® and Amazon®
Musicians playing or singing on the Rockabye's songs include: Marty Balin (Jefferson Starship), Maria Muldaur, Dan Hicks, Nick Gravenites, John Dawson (New Riders of The Purple Sage), Tommy Tutone, Huey Lewis, David Jenkins (Pablo Cruise) and Pete Sears.
For More Information Please Contact:
Bob Heyman
415 305 5295
# # #