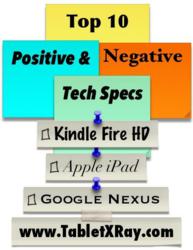 An unbiased review on the Kindle Fire HD and iPad Mini should address their hardware specs as well as content ecosystems, software and apps available for each tablet
Chicago, IL (PRWEB) December 25, 2012
Among the various 7 inch tablet computers available in the market, the Amazon Kindle Fire HD and Apple iPad Mini will undoubtedly be two of the most popular tablets in 2013. Is the Kindle Fire the better tablet, or is the iPad the better tablet? This will be a common question running through the minds of tablet computer shoppers trying to decide between the two. This is where a balanced and unbiased Kindle Fire HD review and/or an iPad Mini vs Kindle Fire HD comparison can be helpful.
According to the Kindle Fire HD Review at http://TabletXRay.com/Kindle-Fire-HD-Review-Top-10-Positive-and-Negative-Tech-Specs/, many online reviews cannot be considered balanced because they only address a certain sub-group of features and tend to ignore certain other important features. For example, a balanced review of any tablet, whether it's the Kindle Fire, iPad Mini, Google Nexus 7 or Nook HD, should address its hardware specs as well as the content ecosystem that feeds it. A bias towards either one of these components would make the review essentially inaccurate. For example, they emphasize that "the most advanced tablet computer (or any other gadget) is useless if it doesn't have access to good music, movies, apps, games or books". Therefore it is extremely important to look at hardware specs as well as the content networks in detail, before deciding on a Kindle Fire or Apple iPad.
As emphasized by the list of 10 critical features of the Kindle Fire HD, not all technical specifications of the Amazon Kindle Fire tablet are equally important. While some features are more important, others are less important. For example, among the newest models of tablets, all but the iPad Mini has a high definition (HD) display. Considering that most new movies are available in a 16:9 HD format, purchasing a tablet with a non-HD display cannot be justified in most cases. Therefore, specs such as resolution, color intensity and reflectance of the display are extremely important features to consider in any tablet computer review. In contrast, the difference between a 1.2GHz processor (e.g. Kindle Fire HD) and 1GHz processor (e.g. iPad Mini) may not be so important because (i) 1GHz is already a very good processor speed, and (ii) performance of a tablet is dependent not only on processor speed, but also on other specs such as RAM and the operating system. This is why the list of 10 critical features of the Amazon Kindle Fire published on http://TabletXRay.com/Kindle-Fire-HD-Review-Top-10-Positive-and-Negative-Tech-Specs/#Ten-Critical-Reasons is an essential read for anyone trying to decide if the Amazon tablet is the right tablet for them or not. Of the 10 features discussed on the above list, some are 'strengths' while others are potential 'weaknesses' of the Amazon Kindle tablet. This is why they are potential Deal Breakers or Deal Sealers for people looking to buy a Kindle Fire HD.
In addition to their review of the Amazon Kindle Fire HD, they also have a very detailed and unique Kindle Fire HD vs iPad Mini comparison. In addition to addressing both positive and negative features of the two tablets, this mini iPad vs Amazon Kindle Fire comparison also compares hardware features and the content ecosystems (i.e. Apple iTunes for iPad and Amazon Digital Store for Kindle Fire) that feed the two devices. However, the most unique feature of this comparison is the TOP 5 Deal Breakers and Deal Sealers. Even though there are more than 15 technical differences between the two tablets, not all of them are equally important. Given the importance of certain features in everyday tablet usage, some hardware/software/content features can be considered Deal Breakers or Deal Sealers. In other words, their existence or absence will play an important role in one's decision on whether to buy a Kindle Fire from Amazon or iPad Mini from Apple. In contrast, other features are not so important and their presence or absence is not so crucial for the functionality of a tablet. It is important to identify these two categories of features separately so that one can make an accurate decision about whether the iPad Mini or Kindle Fire HD better suits their personal computing needs.