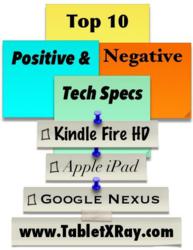 An unbiased review of the Amazon Kindle Fire HD should address PROS and CONS of the hardware, the content ecosystem that feeds it and the android operating system that powers it. A one-dimensional review can be misleading.
Chicago, IL (PRWEB) October 19, 2012
The new Kindle Fire HD has many noteworthy upgrades compared to its predecessor. The high definition display, the front HD camera, larger internal storage (up to 32GB), faster Wi Fi download speeds thanks to dual antennas, introduction of the 8.9" model and availability of 3G and 4G LTE are some of the major additions to the second generation Kindle Fire. Even though it fulfills the expectations and needs of most tablet computer users, the Kindle Fire HD still falls short in certain aspects that would make it that ideal tablet. The Controversial Kindle Fire HD Review - Top 10 NEGATIVE and POSITIVE Tech Specs addresses all these features in detail.
In addition to reviews on the Amazon Kindle Fire HD tablet, they also review the Apple iPad 3, Google Nexus 7, Nook HD from Barnes and Noble as well as popular eReaders such as the Kindle PaperWhite. They also discuss the main POSITIVE and NEGATIVE tech specs of the Kindle Fire 2 in comparison to other tablets in the market, and provide detailed comparisons between different tablet computers. The Kindle Fire HD vs iPad comparison and Kindle Fire HD vs Google Nexus 7 are examples of such comparisons.
In addition to providing reviews of physical devices, http://TabletXRay.com/ has also provided a free list of the Must have BEST Kindle Fire Apps. The collection includes entertainment apps, personalization apps, productivity apps, books and reference apps, social and lifestyle apps, health and fitness apps, educational apps, business and financial apps, travel and local apps, multimedia apps, game apps, children's apps etc. etc. It is one of the best collections of Kindle Fire applications available online for free. The majority of these are FREE apps while some are paid apps on the android app market.
Another popular feature is their Never Ending List of TIPS, TRICKS and SHORTCUTS for the Amazon Kindle Fire HD. These tips, guided by screenshots, photographs and videos unearth some of the hidden functions of the new Kindle tablet. These tips and tricks include details such as how to take screenshots, how to do a wireless transfer of files from the Kindle Fire HD to a PC/Mac computer (without using the USB cable), how to read ePUB books on it, how to use Microsoft Office applications such as Word, Excel and PowerPoint on it, how to access the Kindle Fire camera (there isn't a built-in app to turn the camera on), how to transfer/share pictures/videos you take with it, how to password protect it, how to access the parental control settings, etc. etc. It's called the 'Never Ending List' because the webmasters and users keep contributing new tips and tricks as they discover new ones.
One of the most unique features of this Kindle Fire HD Review is that it incorporates data from its readers including actual Kindle Fire users. Readers can vote up or vote down individual hardware or software features of the Amazon Kindle Fire tablet as well as other tablets such as the Apple iPad, Google Nexus or Nook HD, according to their personal preference. In addition, users are also encouraged to share their positive and negative experiences, views and opinions on any of the above devices. Based on reader votes, the most popular specs of the Amazon tablet are the High Definition Display, the HD camera, and the improved internal storage (16GB or 32GB). While some of the above features received positive votes from over 80% of the readers, certain other features received votes of less than 20% of the readers. While the New Kindle Fire HD has its POSITIVES, it also has several shortcomings as discussed on the Top 10 Negatives of the Kindle Fire HD. It is a highly recommended read for anyone considering purchasing a tablet computer, Kindle Fire or not.
Tablet computers are some of the most gifted electronic items during the holiday shopping season associated with Black Friday and Christmas. This Kindle Fire HD review and the daily updated "HOT Deals of the day" page are certain to be useful for these holiday shoppers.