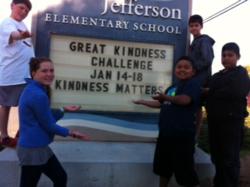 "Why not choose kindness? It's good for you. It's good for me." Erika Montez 5th grader
San Diego, Ca (PRWEB) January 16, 2013
From California to Rhode Island and North Dakota to Texas, students are declaring that "Kindness Matters." In a time where our country is thirsting for positive action, over two hundred fifty schools in forty states are creating a culture of kindness as they take the Great Kindness Challenge.
The Great Kindness Challenge, hosted by Kids for Peace, is one week where students perform as many acts of kindness on campus as possible, using a checklist of 50 suggestions. It's free, easy to implement, and has the power to increase tolerance, unity and respect for all grades Kindergarten through High School.
According to San Diego's Jones Elementary School principal, Rita Powell, who launched the challenge on Monday, "This couldn't have happened at a better time. I don't want to bring up Sandy Hook, but we're all living in the shadows of that tragedy. This is a world where people are hurting and something as simple as a smile and a kind word can make all the difference in a child's life."
There are plenty of smiles, compliments, expressions of gratitude and gestures of simple care happening all week long. Students are enthusiastically checking off challenge after kind challenge.
In addition to tackling the inspirational kindness checklist, schools are emphasizing the importance of kindness with anti-bullying performances, KINDNESS MATTERS door decorating contests, Walls of Kindness, kindness-themed spirit days, KINDNESS MATTERS essay contests, daily kindness quotes and Kindness Stations at recess.
With over 95,000 students each pledging to complete 50 kind acts, that's over four million acts of kindness. Jill McManigal, co-founder and executive director of Kids for Peace stated, "What a joy it is to know that students all over the country are stepping up and proactively creating a kinder world."
Fifth grader Erika Montez may have summed it up best. "Why not choose kindness? It's good for you. It's good for me."
We couldn't agree more!
This year's Great Kindness Challenge is generously sponsored by Southwest Airlines, NRG, Starbucks, The Code Crew, The New Children's Museum, Positively Kids, Next Generation Yoga, Sign4Baby, Conscious Parents, San Diego Bargain Mama and The Good Food Factory
For more information, to get your school involved, or download the checklist visit: http://www.greatkindnesschallenge.org or http://www.kidsforpeaceglobal.org
The Great Kindness Challenge-School Edition was created by Kids for Peace. The school edition was inspired by the success of their annual global Great Kindness Challenge. Last August, youth in 69 countries on 6 continents participated in the global Great Kindness Challenge.
Kids for Peace is a global nonprofit dedicated to uplifting our world through love and action. Their mission is to cultivate every child's innate ability to foster peace through cross-cultural experiences and hands-on arts, service and environmental projects. Once a small neighborhood group of children, Kids for Peace has grown to over 150 chapters worldwide. All Kids for Peace activities are based on the Peace Pledge, wise words written by the children to inspire peace for all.