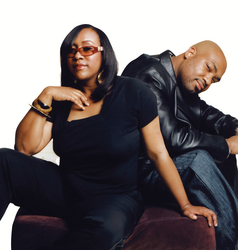 Our music is about love, life, ups, downs and hope
Santa Monica, CA (PRWEB) December 9, 2008
Hidden Beach Recording artist, Kindred The Family Soul hit the road last week in support of their critically acclaimed CD, THE ARRIVAL which features the hit single, 'House of Love.'
The House of Love Affair - a series of shows where Aja and Fatin touch their fans in an intimate setting with new music from THE ARRIVAL - lands in Philadelphia today (12/9) at Theatre of the Living Arts - TLA. The husband and wife duo held their Album Release concert in the venue in 2002.
THE ARRIVAL has been critically acclaimed by a number of key press outlets. In addition to the 'Year's Best' honors from iTunes and Soulmusic.com (where the CD is one of the Top Five CDs of year), THE ARRIVAL lands at number 10 on The Urban Network's Top 20 Indie Artists' Releases for 2008.
"Our music is about love, life, ups, downs and hope," stated Aja Graydon, one half of the husband and wife duo. "We want to share our music so we're hitting the road to help folks kick off the holidays."
The House of Love Affair kicked off in Atlanta to a capacity crowd, notable in a our current recession and in a city without radio airplay. So far, Kindred have excited fans in Atlanta, Washington, DC and New York. With the city's loss of the legendary Five Spot, tonight's appearance at TLA represents a real home-coming.
Remaining dates include:

Tuesday, December 9, 2008 Philadelphia, PA TLA
Friday, December 12, 2008 Indianapolis, IN Marriott Hotel
Additional appearance dates will be announced shortly.
In addition to concert appearances, Kindred were seen performing on Patti LaBelle's Holiday Special airing on TV One yesterday - Monday, December 8, 2008. Additionally, music from THE ARRIVAL will be the Official Soundtrack on BET-J's Soul Sessions Last Call 2008 - the Top 50 Countdown on December 31 and New Year's Day.
About Hidden Beach Recordings:
Founded by music veteran Steve McKeever, Hidden Beach Recordings is an independent record label based in Santa Monica, CA. Along with introducing music sensation Jill Scott and saxophonist Mike Phillips, Hidden Beach is also home to Grammy® winning The Tony Rich Project, John Densmore's Tribaljazz, singer/songwriter/guitarist Peter Black and Unwrapped, the ground-breaking Hip-Hop/Jazz hybrid series.
###