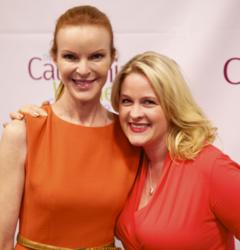 'by sharing their stories people can heal themselves & heal others' Kirsty says
Los Angeles, CA (PRWEB) March 12, 2013
Kirsty TV will launch this week on http://www.KirstyTV.com. The former Australian real estate phenom turned online talk show host, moved to America one year ago to parlay the same skills that landed her in the top one percent of sales executive worldwide into a career that would help others find a safe haven for healing.
"The show's is based around the philosophy that "by sharing their stories people can heal themselves & heal others," says Kirsty. "Our guests are real, raw and vulnerable. Gender, income, status and beliefs don't matter – the common bond is that we all feel pain." The healing begins this week with guests including Marcia Cross who discusses her husband's cancer diagnosis, Richard Simmons on his abuse of laxatives, and dating advice from Oprah's boyfriend and self-help author, Stedman Graham.
Lesser recognized names with equally compelling stories include a woman named Petra who at just 16 was kidnapped and sold into the sex slave industry, a man named DJ who found a way to escape even behind close walls during his 16-year prison sentence. Allan who shares intimate details of his 12 year addiction with alcohol that led him to let his life spiral out of control and a woman named Stacy who triumphed in a landmark legal suit of "adopted vs. biological parent."
These episodes can be seen online with new episodes posted every Monday, Wednesday and Friday's PST at 3pm at http://www.kirstytv.com or on YouTube.
---------------------
Kirsty Spraggon had a successful career in real estate in Australia ranking in the top 0.1% in RE/MAX's global network of 121,000 agents worldwide when she decided to follow her dream to develop a talk show on the other side of the world. She moved across to the international speaking arena where she has motivated thousands with her messages of inspiration. She arrived in L.A in December of 2011 with only two suitcases, leaving her family, career and home to help people heal by sharing their stories. Kirsty is the author of Work As If You Own It. For more information visit http://www.KirstyTV.com