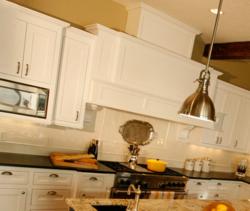 "Home buyers are wanting lots of kitchen cabinet built-ins for a well-organized home, and an open kitchen kitchen flowing into the living, dining, and family rooms." ~ Destiny Homes
Minneapolis, Minnesota (PRWEB) March 19, 2013
The hottest kitchen cabinet trends at the 2013 International Builder's Show in Las Vegas as presented by home interior designer Dirks and architect Tringali ascribed to new trendy American kitchens as more connected to the rest of the home as part of a larger, more open floor plan. Updated kitchen cabinets trend from the new traditional to European style cabinets.
"Modern home designs are redefining the boundaries of traditional kitchen remodels, creating larger and more open spaces rich with cabinetry. However, basic configurations are still beneficial in determining the overall relationship of appliances, their proximity to one another and how to maximize shelving and storage," says Butch Sprenger, owner of Destiny Homes.
HouseLogic commented on cabinet trends as discussed at the event: "Darker, furniture-like finishes are popular, but so is pure white. The middle ground - think natural oak - is going away. Dark finishes help the kitchen integrate into the overall scheme; pure white is the ultimate accent color that readily complements the rest of the living area."
Destiny Homes interrupts the style options for kitchen cabinets as, incorporating the latest in trendy kitchens as follows:

European-style Cabinets - European-style cabinets are typically recognized by the following characteristics: hidden hinges, soft-close doors and drawers, frameless cabinet construction, and full-overlay doors and drawer-fronts. These kitchen cabinet must-haves contribute to a kitchen's modern design. Hidden hinges keep things looking sleek with no hardware visible to disrupt the clean lines of your cabinet doors. The soft-close doors and drawers prevent slamming, and extend the life of the cabinet box. The new look of frameless cabinet construction and full-overlay doors gives a kitchen the look of "just doors" without the older style face-frame behind the doors.
Kitchen Cabinets With Stunning Glass Doors - Glass kitchen cabinets can be stunning and incorporated a mix of cabinet door fronts to display beautiful china and stemware. While lovely, glass kitchen cabinets built with glass doors help keep a kitchen highly organized without trying to recall just where an item is when you need it in a given moment. Daylight-filled kitchens will often find he light shining through the glass and resulting in further lighting up the room. Most kitchen updates involve removing the cabinets from the wall. Depending on each unique home improvement project, the work may require a space of time before installing them back on the wall for a brand new kitchen look.
Trendy French Influences In Cabinetry - Incorporating popular design ideas for kitchen cabinet updates includes borrowing influences from France. Various types of French country kitchen cabinets create a delightful personality to a kitchen's statement. One can opt for a traditional French country kitchen versus the modern style one.
Contemporary Kitchen Cabinets - Contemporary kitchen cabinets are popular with a two-tone color design which is classical as well as have some modern touches. The cabinets are mostly available in white, chrome or bold colors. The basic refacing project consists of installing new cabinet door and drawer fronts and covering the exposed face frames of the cabinets with a matching wood or finish.
Shaker Style Cabinets - The Shaker-style cabinet door is the most common door style in kitchens today, yet can be very dressed up and trendy. Its five-piece flat-panel style begins with a frame constructed of four pieces and a single flat center panel for the fifth piece. Its simple, clean lines lend fashion to just about any decor — from contemporary to traditional — with variations in wood selection and stunning wood grains adding the character that sets the stage for a kitchen's personality.
Other home design trends for 2013 announced at the International Builders Show To Showcase included:
1) Wide plank flooring preferred in some kitchen s
2) Corner windows that open a room up to create daylight-filled rooms
3) A major innovation in open cell spray-foam insulation
4) New connected home technologies that are operated from remote devices
Enlist the help of an architect or interior designer to establish the most effective kitchen remodeling plan for help determining cabinetry dimensions, specifications and if the European or another style is a good fit. "Kitchen cabinets introduce your kitchen's personality and style, however, perhaps being the busiest room in many homes, cabinetry should be built to accommodate daily work flows and lifestyle considerations. Overall, function is more important than trends," adds Sprenger.
If planning a home renovation in the Twin Cites metro, Destiny Homes helps clients find the kitchen cabinets they want, and make it an exciting part of the process of creating a unique remodeled kitchen. Call Destiny Homes at 952-934-5706 and ask for Butch or Liz Sprenger for a personal consultation.