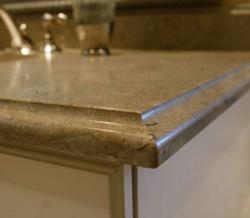 "Kitchen counter tops are one of the most distinguishing features of a rebuilt and updated kitchen. Polished kitchen counter finishes bequeath a home with a pristine and elegant touch that is much in demand." ~ Butch Sprenger
Minneapolis, Minnesota (PRWEB) March 12, 2013
Kitchen remodeling and green healthy homes are the focus of most home improvement projects in 2013. Yesterday, the Joint Center of Housing Studies at Harvard University released a report saying, "The approximately $300 billion a year private home remodeling and repair market comprises most of the investment for maintaining and improving the nation's housing stock".
"A kitchen is often the hub of a home, and where the first dollars are spent on home remodeling. Hosting the preparation of meals, family activity around kitchen islands, and a gathering spot for friends, the kitchen becomes a show piece of the home's personality, beginning with choosing the material used for kitchen counter-tops. Its not an item to skimp on," says Butch Sprenger, owner of Destiny Homes.
Harvard's study documents how nonprofit organizations and public agencies are investing resources along side private home remodelers to make homes healthier, energy efficient, and green-friendly, in part, by making better informed decisions concerning the materials used in home improvement projects.
OPTIONS FOR KITCHEN COUNTER-TOPS FROM DESTINY HOMES
Granite Counter-top - Granite countertops last the lifetime of a home. Every piece of granite is unique and comes in a range of almost 3000 colors. Home builders with the right know how, ensure that installers use new sealers that are almost maintenance-free and have advanced antibacterial qualities for healthier kitchen surfaces. Granite has the 2nd highest hardness rating only coming in after diamonds." It offers high value to luxury home buyers in neighborhood that can carry it: like in Minnetonka full-house makeovers, Eden Prairie, and Wayzata where we often renovate homes," says Sprenger.
Quartz Counter-top - Another viable choice comes from a variety of engineered stone countertop made from quartz.The art of grinding quartz with coloring pigment and a binding agent, yields a durable manufactured countertop for households who are seeking alternatives to granite. Quartz is recognized by home builders for its built-in anti-microbial protection that inhibits growth of odor-causing bacteria, mold and mildew.
Sandstone Counter top - A beautiful material, however, it is expensive, fragile and easy to chip. The top is typically light to dark gray in color. It is a bit of a high maintenance choice that will regular coatings of an oil treatment to prevent it from exhibiting a dry and uneven look.
Butcher Block - It may be the right selection if seeking an economical options. Homeowners like butcher block for its practicability and simple styling. Depending on the kitchen space being renovated and if it will be used for chopping purposes, hygienic considerations should be in mind. A butcher block counter top can be have a sealant put on it to help.
Marble Counter-tops - A clean, bright look of brilliant white, elegance and timelessness can be captured with a marble counter top choice. Marble's natural color variations, hard-wearing, and easy-cleaning qualities are it pros. The cons are that marble is softer and more porous than the nearly indestructible granite; meaning that it can etch, scratch and stain.
Stainless Steel - Stainless steel kitchen counters are considered ultra easy to keep clean, equaling less care is required than with some other materials. Under ordinary care many homeowners find they deal little with staining and water spot. Like a quartz counter top, you can put hot pans right on it. A stainless steel counter top gives a more contemporary, commercial look.
Green Friendly Terrazzo - Recycled Glass - Terrazzo counter tops would consist of crushed stone and glass set in a cement or epoxy substrate that is buffed to a smooth finish. Drawing from its 40-year-plus lifespan, low maintenance, and high recycled content, it qualifies for a good green choice. Glass, stone, and other recycled materials can make up as much as 95 percent of the composite materials in terrazzo.
Concrete Counter-tops - Concrete can be created into custom forms right in the home and dyed almost any color or a blended look obtained quite easily. The toxicity of the dyes used can be a concern. Concrete counters require routine care and should be sealed periodically to limit stains, water damage, and bacterial growth.
Solid-Surface Counter-tops - Made from petroleum-based products, solid-surface countertops are not generally considered very green friendly. Green Home Guide's advice for counter top selection says, "Recycled plastic surfaces are typically quite long lasting, resist moisture and do not off gas [volatile organic compounds] -- but they burn easily, can be scratched and may warp."
Destiny Homes assists homeowner decisions for materials used in home renovations that include personal preference, local availability, health, maintenance and budget. Call 952-934-5706.