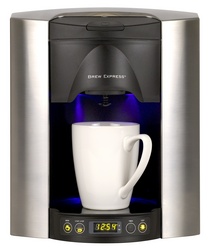 I'm eager to show my clients the benefits I appreciate most - convenience, constantly fresh coffee, and first-class design.
PORTLAND, Ore. (PRWEB) April 17, 2008
Debuting at KBIS 2005, the Brew Express 12-cup model was the first built-in-the-wall, self-filling coffee system. This year, Brew Express was introduced in two new sizes, as well as with new and improved design and features. Brew Express is now available in a four-cup model - with features customized to the needs of master bathrooms, hotel rooms, yachts and RVs - as well as a 10-cup model that fits into the same housing as the original 12-cup model.
"You can take almost anything out of my kitchen, but you can't take my Brew Express," says Trudy McGinnis, Certified Kitchen Designer, Certified Bath Designer and Registered Interior Designer in Georgia. One of the first to use the 12-cup model in her home when it came out in 2005, McGinnis is already using the four-cup and plans to add the 10-cup to her home beverage center. Long-time owner of The McGinnis Group, LLC design services, McGinnis says, "I'm eager to show my clients the benefits I appreciate most - convenience, constantly fresh coffee, and first-class design."
Certified by the Specialty Coffee Association of America in 2005 to brew at the highest industry standards for optimum coffee quality and taste, a new feature called Brew Trak(TM) ensures consistent brewing temperature regardless of incoming water temperature or voltage variation.
More new value-added features include:
-- A convenient lock device that holds the carafe in place when installed in yachts and RVs
-- Single-cup setting for hotel rooms
-- Wide variety of finishes and colors customizable to kitchen decor - such as granites, metals and woodwork
-- Soft blue background lighting controlled by on/off switch
-- Improved design and appearance
Original features and benefits that continue to garner excellent customer reviews include:
-- Thermal carafe that maintains temperature and coffee quality and is suitable for any table service
-- Self-installation that average homeowners have found easy; supported by installation video (also viewable online), manual, and customer service line
-- Connects to cold water line or bottled-water source
-- Carafe removable during brewing, shuts off automatically if not replaced
Base retail price for the four-cup model starts at $289 for basic units and $329 for premium units.
For more information about Brew Express, call 866/268-5953 or visit http://www.brewexpress.com
Lance-Larkin, a product development and marketing company headquartered in Portland, Oregon, is committed to improving quality of life and efficiency through high-quality and innovative product designs.