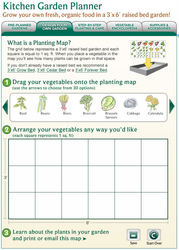 We designed this playful, interactive planning tool to take away the worries of what, when and how to plant a successful vegetable garden.
Burlington, VT (PRWEB) March 11, 2009
According to recently released survey results from the National Gardening Association (NGA), a $70 investment in home food gardening can yield, on average, a $600 return on the investment.
"These numbers are based on a $2 per pound in-season market price of produce grown in a national average garden size of 600 square feet with typical yields from the most popular vegetables," said NGA's Director of Research Bruce Butterfield.
In response to a dramatic increase in the number of U.S. households growing vegetables for the first time, Gardener's Supply has created a new online Kitchen Garden Planner (KGP). The KGP online tool was created in response to the increased volume of questions from new gardeners as basic as "How do I start?" and "What should I grow?"
"We want new vegetable gardeners to have a fun and rewarding experience right from the start" said Kathy LaLiberte, Director of Gardening for Gardener's Supply, a Vermont-based earth-friendly gardening company. "We designed this playful, interactive planning tool to take away the worries of what, when and how to plant a successful vegetable garden."
View Now - Direct Link to Online Kitchen Garden Planner:
http://www.gardeners.com/Kitchen-Garden-Planner/kgp_home,default,pg.html?SC=XNET9009
Gardeners using the new online tool will have access to five different features: a selection of six pre-planned vegetable gardens, an interactive design-your-own-garden map, a guide to planting & care, a vegetable encyclopedia and a list of recommended supplies and accessories.
Using the interactive design tool, gardeners can select from among 30 different vegetables and 'click and drag' plant icons to a 3' x 6' garden. The tool displays how many of each plant -- carrots, beets, cucumbers, etc, --- will fit into each 1' x 1' section of the garden. It also provides step-by-step planting and care instructions, including a soil calculator to determine how much soil you'll need to fill your raised bed garden. For those who'd rather have an expert do the planning, there are pre-planned gardens with printable planting maps available, including the 'Plant It & Forget It Garden' and the 'Cook's Choice Garden.'
The company, well-known for its practical, garden-tested products is also expanding its' already wide selection of vegetable gardening products. Some new offerings include the Forever Raised Beds, the Self-Watering Raised Bed, Potato Bins, Cascade Planters, a stylish new look for their Tomato Success Kits and more.
In 2009, the number of households growing some of their own vegetables, fruit, berries, or herbs could increase by 7 million households (19%) to 43 million according to Butterfield.
The primary focus of our business - for the past 26 years - has been organic vegetable gardening. This renewed interest in growing your own food is very exciting. We believe strongly that food gardening is an important way for people to reconnect with nature, family, community and themselves," continued LaLiberte.
Gardener's Supply is employee-owned company of avid gardeners providing gardening-related products and information via their catalogs, website and retail stores. Located in Burlington, Vermont, the company has won many awards for its patented products and innovative business practices. Gardener's Supply can be found on the web at gardeners.com. Gardener's Supply donates 8 percent of company profits to gardening-related initiatives and organizations working in the areas of sustainable agriculture, the environment and hunger relief.
For Photos, Additional Information:
Maree Gaetani 802-660-3500 x5925
Sue Chayer 802-660-3500 x5926
###