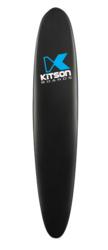 The quality of offshore crafted surfboards were dismal, I just knew I could do it better
Olympia, WA (PRWEB) March 10, 2013
Washington State business owner, Michael Kitson has been running a successful wine rack and wine cellar manufacturing and retail website, WineRackStore.com since 1995.
With the population of paddle boarding taking off, Kitson spent a few years compiling marketing research data on the sport, and content with his findings, launched his second business in the form of his own carbon fiber paddle board and surfboard manufacturing operation in April of 2012.
Kitson Boards, Inc., which as of now is solely an ecom retailer, custom makes all orders in Olympia, Washington and ships around the United States. All supplies for production are also obtained from other businesses in Western Washington. "We are 100% made in the USA and very proud to be," said Kitson, "The quality of offshore crafted surfboards were dismal, I just knew I could do it better."
Marking it's first year of business, Kitson and his paddle board team have big hopes for the next year, "We are moving to a larger location on the Swantown Marina in downtown Olympia, and we plan to soon be selling our products to larger sport retailers so that our boards can also be purchased in shops across the country." said Kitson.
Kitson Boards is a subsidiary of AmazingUniverse.com, Inc. which is also responsible for Wine Rack Store.com and was founded by Michael and Denise Kitson. Kitson Boards, LLC headquarters is located in Olympia, WA. Kitson Boards are all crafted out of the ultra durable and long lasting carbon fiber material. All production of surfboards, paddle boards and wakesurf boards, as well as the people behind the brand are based in North America and is the only board producer to do so. Kitson Boards prides itself on outstanding customer service and only the finest in recreational boarding and accessories. Free shipping is available throughout the continental USA.