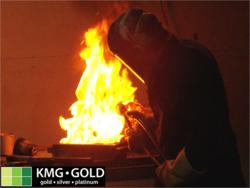 Now that we've removed the speculation on final purity and weight, our payout rates increase dramatically
Winnipeg MB (PRWEB) September 10, 2012
KMG Gold Recycling introduces Winnipeg's' first gold and silver melt and assay service.
With a state-of-the-art induction melter and X-ray fluorescence analysis machine on-site, KMG Gold has the ability to melt and assay all gold and silver scrap at 620 Academy Rd in Winnipeg. The accuracy and reliability of this equipment is unsurpassed in the industry.
The melt and assay process maximizes customer returns by allowing KMG Gold to purchase precious metal based on the exact weight and purity. The melt and assay process removes speculation about the true purity and weight of recycled precious metal.
"Now that we've removed the speculation on final purity and weight, our payout rates increase dramatically." Says Michael Gupton, president of KMG Environmental Inc. which operates as KMG Gold Recycling® in Winnipeg MB and Grand Forks ND.
Clients for melt and assay services include people with larger amounts of scrap gold and silver, gold buyers, jewellers, pawn shops, coin and precious metal dealers. The benefit to clients is a more precise and timely analysis of the material they wish to recycle and a higher payout rate for their precious metal.
KMG Gold Recycling buys, recycles, and refines all precious metals including gold, silver, platinum and palladium. Gupton started KMG Gold as an internet gold buyer in 2007 at http://www.kmggold.com, and opened their first location in Winnipeg in 2010 and has now expanded into the USA with a location in Grand Forks ND.
The industry leader for consumer education in the gold recycling industry combined with innovative precious metal recycling solutions for the general public and industry, has helped KMG Gold see 6100% growth since they stared in 2007.
KMG Gold Recycling is the only precious metal recycler to win BBB Torch Awards for Honesty, Ethics, and Integrity, in 2010 and 2011 and has just been nominated for an unprecedented third 2012 Torch Award and a Better Business Bureau Green Award.
For more information on KMG Gold Recycling and its various consumer driven programs, please visit http://www.kmggold.com, or call 204-452-4653, or toll free at 1-877-468-2220.
Media Contact: Michael Gupton, BSc Eng (Civil) CET AScT, President, KMG Environmental Inc., 204-452-4653
KMG GOLD RECYCLING – NORTH AMERICA'S GOLD BUYER SINCE 2007