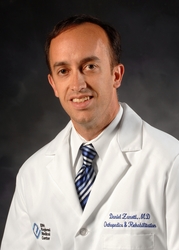 I asked the physical therapist,
Sheffield Village, OH (PRWEB) March 2, 2010
On Jan. 19, board-certified orthopedic surgeon Daniel Zanotti, MD, of the Center for Orthopedics in Sheffield Village, Ohio, performed the first Patient-Specific Instrumentation (PSI) knee replacement in Ohio.
The patient, 67-year-old Virginia Ehlert of Elyria, Ohio, was on her feet and walking the day after surgery. "I asked the physical therapist, "Should I put my full weight on it?" and she said, 'Yes.' I did--and I had no pain!" Ehlert recalls. "Before my surgery, I'd gotten to the point where my knee was so painful I couldn't walk."
"No two knees are alike," Dr. Zanotti explains. "The real advantage of the PSI knee is that we can custom-fit each patient's knee replacement."
Research shows that differences in bone shape affect the way a knee replacement fits. PSI uses an MRI (magnetic resonance image) of the patient's knee to computer-generate a detailed surgical plan, including customized instrumentation that shows exactly how the new knee should be placed.
"This computer technology perfectly aligns all the cuts we make in the bone, and thus perfectly aligns the knee replacement," Dr. Zanotti explains. "We don't have to rely on an 'eyeball factor' to try to get it right."
"There's also less cutting of bone with PSI," says Dr. Zanotti. "We don't have to drill holes in the tibia (shinbone) or femur (thighbone), which is a standard part of most knee replacements. We think it's another step toward minimally invasive technology that should allow quicker recovery for patients."
"Sometimes patients are hesitant about new technology," Dr. Zanotti acknowledges. "PSI uses the same knee replacement we've been using for 20 years--it's just a minimally invasive, more accurate way to put it in. Unlike earlier technologies, PSI doesn't require surgeons to switch the type of knee replacement we use to adapt to the new technology."
Less than a month after her surgery, Ehlert could completely straighten her leg. "My physical therapist shook my hand and told me, "That's amazing for the short length of time you've been working at it," she says. "The therapists couldn't believe I'd had a total knee replacement--they kept saying, 'You must have had some kind of arthroscopic surgery."
"I was driving two weeks after my knee replacement surgery," says Ehlert. "I've been walking around, going up and down the stairs, doing laundry--no problem. Before surgery, I had to plan every step I took because it hurt so bad. Now I have such confidence in that leg and it's so strong."
A month after her surgery, Ehlert is back to living an active life. "This summer, my granddaughter wants to go to Disney World. Last time we went, I needed a wheelchair. Not anymore!" she says.
For more information on PSI knee replacement, visit http://www.center4orthopedics.com/procedures/psi-knee. To schedule a consultation with Dr. Daniel Zanotti or any of the orthopedic surgeons at Northeast Ohio's Center for Orthopedics, call 440.329.2800.
Northeast Ohio's Center for Orthopedics, with offices in Sheffield Village, Oberlin and Westlake, Ohio, offers complete bone and joint care by five advance-trained, board-certified orthopedic surgeons. Call 440-329-2800 or visit http://www.center4orthopedics.com for more information.
###