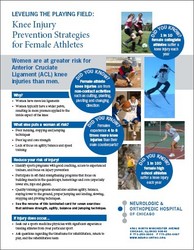 These shocking statistics were in part the impetus for offering this brochure as a public service for women who participate in competitive sports
Chicago, IL (PRWEB) July 21, 2008
It's estimated that more than 1.4 million women tear an Anterior Cruciate Ligament (ACL) every year. That's double the number from a decade ago. Responding to a recent increase in sports injuries among female athletes, the Neurologic & Orthopedic Hospital has introduced a new informational pamphlet for female athletes. The pamphlet, entitled "Leveling the Playing Field: Knee Injury Prevention Strategies for Female Athletes," includes tips for reducing an individual's risk of injuries and strengthening exercises for improving balance, coordination, power, strength and speed.
Preston Wolin, M.D., director of the Sports Medicine Program at the Neurologic & Orthopedic Hospital of Chicago, believes a general naivety about good strengthening and conditioning practices is a major reason young women are injuring themselves far too frequently in competitive sports.
The knee injury pamphlet makes the following key points:

One in 10 female collegiate athletes suffer a knee injury each year
One in 100 female high school athletes suffer a knee injury each year
Women experience four-to-eight times more knee injuries than men
Knee injuries are just as common in non-contact sports as in contact sports, due to cutting, planting, pivoting, and changing direction
"These shocking statistics were in part the impetus for offering this brochure as a public service for women who participate in competitive sports," says Dr. Wolin.
Dr. Wolin remarks that women overwork their quadriceps muscles more than men and tend to land more flat-footed as well. This compounds the problem and leads to more knee injuries for women. He advises adding more stretching, strengthening, and sport-specific workouts to an athlete's routine in order to prevent injury. Plyometrics, which are exercises designed to build explosive power, strength, and speed in the legs should be incorporated in order to help facilitate proper jumping technique.
The prevention strategies pamphlet explains why women tend to injure themselves more often, what to do if injury does occur, and what can be done to avoid injury on the playing field. It outlines seven different unique strengthening exercises and shows how to perform them properly. All exercises can be done at home or the gym, making them quite accessible and easy to do.
The pamphlet can be obtained by calling 773-250-1009 or ordering online at http://www.neuro-ortho.org.
The Neurologic & Orthopedic Hospital of Chicago is the country's only freestanding acute care hospital dedicated exclusively to neuroscience and orthopedic services. It utilizes breakthrough technology and minimally invasive techniques as well as advanced procedures for neurosurgery, orthopedics, pain management, neuro-oncology, sports medicine, and rehabilitation. For more information call: 773-250-1000 or visit Neurologic & Orthopedic Hospital online.
###