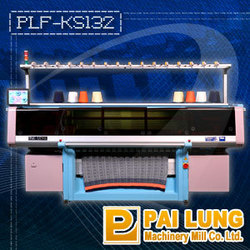 Shanghai, China (PRWEB) July 23, 2008
Pai Lung, recognized as the world's leading knitting manufacturers, gets ready for its first Computerized Flat Knitting Machine-PLF-KS132 debut at ITMA Asia+CITME in Shanghai, China from July 27 to 31, 2008. This presentation will show a remarkable milestone for Pai Lung as it strives to manufacture higher quality knitting machines, and also becomes the first circular knitting machine inventor launching computerized flat knitting machine production.
"'Why not try to make a computerized flat knitting machines on your own?' When our clients brought up this question, it did inspire us to pay attention to flat knitting technology. After years of efforts, we are glad that we make it. Combined with our mature techniques and design concepts, this PLF-KS132 surely surpasses all expectations. In addition to working with our circular knitting machines as well as integrated total solution services, our clients can be empowered to produce a variety of clothes with high efficiency, which broadens their service range and boots business volume," said James Wang, Pai Lung President.
Pai Lung, after three years dedication, has invented the Pai Lung PLF-KS132, what will definitely become a spotlight of the show. Its features include high precision machinery, and it can be handled by one operator to cover six employees' worth of work, permitting mass productivity, great efficiency and higher cost performance to customers. Accordingly, "No boundary for knitting fabrics" is possible.
Computerized Flat Knitting Machine- PLF-KS132 at ITMA:
In view of the growing market demand for flat knitting machines, especially in China, Pai Lung solves many problems faced by other domestic machines including control systems with lack of stability, frequent damage to components, insufficient functions and no user-friendly interface support. Furthermore, many manufacturers mistakenly use an imported control unit, causing difficulty in maintenance and high repair expenses.
Therefore, Pai Lung guarantees that PLF-KS132 offers an excellent choice for the market. It is based on the same design concept as circular knitting machines. Its built-in center production management and control system runs precisely for data collection and analysis, and can also be equipped with both PLC and communicating interfaces. It is able to connect to Pai Lung on-line monitoring systems, electronic yarn rate monitoring and tape speed control.
According to affiliated companies for cam and needle cylinder production and reliable subcontractors in Taiwan, Pai Lung assures its ultra-fine components enable PLF-KS132 to reach optimum levels of functioning, resulting in a product that is more durable and of higher quality.
Of course, PLF-KS132 also features an exquisite contra-sinker, pulldown device, loop presser bed, split transfer jack bed, and a yarn carrier kickback device, all contributing to superb production capabilities. It achieves the "All-fashion & Best quality" idea while knitting each gauge range from tighter, fine-gauge fabrics using all-needle knitting, to more breathable, lower gauge fabrics.
Unique Fabric on Display:
With a display area of 300 square meters, Pai Lung will also show a large collection of 60 fabric samples that reflect exactly the latest trends and techniques.
Speaking of special fabrics, Pai Lung continues to demonstrate its techniques through Knit Denims, Knit Suedes, Knit Corduroys and Knit Soft Shells. More varietyies of fabric applications for home decoration, accessory and clothing will also be well exhibited.
In particular, Pai Lung Spacers, made by Double Jersey Knitting Machine Series, has three layer structures and raised pattern surfaces with wonderful breathbility characteristics. This fabric allows efficient heat dissipation after absorbing body temperature and sweat.
To convey more fashion sense, Pai Lung maximizes the use of Single Jersey Knitting Series and Double Jersey Knitting Machines in fine-gauge fabric production. This texture of fabric is similar to silk. With a pearl-like luster, and a soft and smooth feel. It also conforms to the body shape with improved comfort and an elegant look.
Pai Lung will also introduce "Body Mapping" fabric. By taking advantage of the Single Knit Fishnet Jacquard Machine, the fabric has an ultra breathable engineered mesh structure which increases airflow across the body. It is perfect for sports wear, yoga clothing and polo shirts.
Pai Lung sincerely welcomes all visitors to meet them at ITMA in Shanghai, China, and seeks opportunities for widening success. Please contact Pai Lung or view its website for updated information.
###