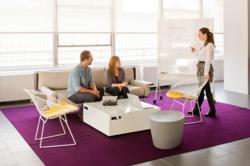 "The office planning paradigm that most of us are familiar with was never intended to support the complexity or even the unpredictability of new work patterns." - Benjamin Pardo, Knoll Design Director
New York, NY (PRWEB) March 28, 2013
Knoll Inc., a leading designer and manufacturer of innovative branded furniture and textiles, has launched Activity Spaces to realign creativity and collaboration in the office environment. Activity Spaces are "go to" spaces, that is, destinations for temporary group and individual work.
"The office planning paradigm that most of us are familiar with was never intended to support the complexity or even the unpredictability of new work patterns," said Knoll design director Benjamin Pardo.
Pardo worked closely with Antenna Design principals Masamichi Udagawa and Sigi Moeslinger (named by Fast Company as one the "50 Designers Shaping The Future" and by The New York Times as "One of the Powers of New York") to create ways for people to collaborate outside of their primary workspace more effectively.
The result: new designs that focus on agile elements for group expression, including a line of mobile multi-directional Scribe™ Marker Boards; Power Cubes, the Toboggan™ chair; and the standing height Antenna™ Workspaces desk. These introductions build upon current products offered by Knoll.
Pardo noted that these new products offer a range of Activity Spaces opportunities for a range of settings:
Refuge - for focus work among one or two people
Enclave - for small group interactions among three or four
Team Meeting - for teams of five to eight
Assembly - spaces for conferences, lectures or training
Community - areas for informal socializing, eating or collaborating.
He added that the relationship between collaboration and innovation is leading to a radical rethinking of the workplace plan. Knoll Activity Spaces let employees work how they want – whether they are 25 or 50; whether they work in an ad agency or financial services firm and whether their best ideas come to them while concentrating alone or bumping into colleagues over coffee.
Commenting on the role of Activity Spaces in the workplace, Mike O'Neill, Knoll director of workplace research, said "Activity Spaces of any type or scale attract users and are effective at promoting collaboration only if they are equipped with appropriate technology and communication support tools. These include Wi-Fi, convenient access to power outlets, video, fixed or mobile whiteboards and tackable surfaces."
Through research, Knoll explores the connection between workspace design and human behavior, health and performance, and the quality of the user experience. Sharing and applying what they've learned to inform product development and help customers shape their work environments. To learn more about this topic or other research resources Knoll can provide, visit http://www.knoll.com/research/index.jsp
For more information or to purchase any of the Knoll Activity Spaces line, visit http://www.knoll.com/products/productline_activity.jsp