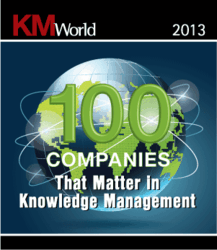 We have an incredible team here at KnowledgeLake. What we do comes from the heart, and our employees' hard work and dedication to our customers has led to this honored recognition. - Ron Cameron, president and co-founder of KnowledgeLake
St. Louis, Missouri (PRWEB) March 04, 2013
KnowledgeLake is honored to announce their recognition in KMWorld's 100 Companies that Matter in Knowledge Management for 2013. This year marks KMWorld's 13th anniversary to release this list, which features companies that provide legitimate solutions to profound challenges. These companies were selected by KM practitioners, theorists, analysts, vendors, their customers and colleagues.
"Criteria for inclusion varies, but all companies have things in common. Each has either helped to create a market, redefine one or enhance one, and they all share two things – the velocity of innovation and agility to serve their customers," says Hugh McKellar, KMWorld editor-in-chief.
KnowledgeLake is the market leader in Microsoft SharePoint ECM solutions. The award-winning company has been recognized as a three-time Microsoft Partner of the Year and is honored to be acknowledged for their success once again. KnowledgeLake was featured on KMWorld's list as a result of their unparalleled customer service and consistent delivery of innovative solutions used to extend the capabilities of Microsoft SharePoint. KnowledgeLake Unify, a member of the KnowledgeLake suite of products, was recently featured in KMWorld's Trend-Setting Products of 2012.
KnowledgeLake's acknowledgement from KMWorld is a direct reflection of the company's strong mission statement: "To enable our customers to realize their full potential by serving them with new and innovative document technologies." With a team of hardworking SharePoint experts, this enthusiastic company is dedicated to providing customers with the highest standard of service and products.
"We have an incredible team here at KnowledgeLake," says Ron Cameron, president and co-founder of KnowledgeLake. "What we do comes from the heart, and our employees' hard work and dedication to our customers has led to this honored recognition. We are privileged to be recognized among so many remarkable companies."
More information about KMWorld's 100 Companies that Matter in Knowledge Management can be found in the March issue of KMWorld magazine, as well as on KMWorld's website.
About KMWorld
The leading information provider serving the Knowledge, Document and Content Management systems market, KMWorld informs more than 45,000 subscribers about the components and processes - and subsequent success stories – that together offer solutions for improving business performance. KMWorld is a publishing unit of Information Today, Inc.
About KnowledgeLake
KnowledgeLake develops document imaging related products and solutions for Microsoft SharePoint. KnowledgeLake extends the ECM capabilities of SharePoint, enabling businesses to reduce mailing costs, streamline operations, and achieve regulatory compliance using familiar Microsoft products that most businesses already own and use. KnowledgeLake products and solutions are deployed globally in thousands of organizations in many different horizontal and vertical industry sectors including public sector, healthcare, financial services, transportation and more.