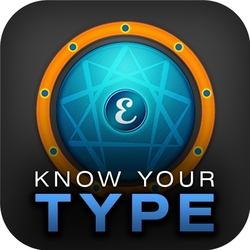 "Millions of people worldwide know and use the Enneagram and just as many have iPhones," says Lapid-Bogda. "I wanted to put the insights of the Enneagram at their fingertips and make this powerful system available to millions more."
Santa Monica, CA (PRWEB) January 18, 2011
The Enneagram in Business today announced that its first App, Know Your Type, is now available exclusively for iPhone, iPad, and iPod Touch. Know Your Type is a comprehensive and interactive App that enables users to understand themselves in profound ways and then learn how to effectively interact with others, using the Enneagram system of personality as their guide.
In Know Your Type, users first discover their own personality type through an animated, interactive process. Once personality type has been identified, the App gives users information and tips on how to do the following: interact effectively with others at home and work; prevent conflict; reduce stress; and engage in self-development. They can also watch videos of real people, test their Enneagram knowledge in real-world situations, and learn more about Enneagram theory.
Know Your Type is now available for $2.99 worldwide. It is available in Apple's App Store, or by going to http://www.EnneagramApp.com, which also includes App details and screenshots.
Ginger Lapid-Bogda, Ph.D., the company's founder, is a consultant, coach, and trainer who has over 35 years of experience working with Fortune 500 companies and non-profits. An award-winning speaker and writer, she is past-president of the International Enneagram Association and the author of three seminal Enneagram-business books. Ginger also provides world-class training materials, Train-the-Trainer and certificate programs, and an innovative eLearning Portal.
###