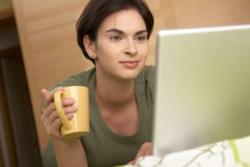 While these sites can and do offer some great articles regarding buying and selling a home, when it comes to knowing the market, you must go local.
Knoxville, TN (PRWEB) March 07, 2013
The Holloway Group, the leading Knoxville real estate team at Gables & Gates, REALTORS recently posted a new article on their website titled, "When Searching For Homes, Look On Local Websites".
Troy Stavros, Broker and Partner with the Holloway Group stated, "We've witnessed time and again the incorrect information being displayed on many of the top, national real estate websites. The most accurate information can be found on local, brokerage sites, because they are pulling directly from the local Multiple Listing Service."
While local Knoxville brokerages have an agreement with each other to display the entirety of each other's inventory of Knoxville homes for sale, other third-party listing portals, like Trulia and Zillow, may only receive some listings directly from an MLS. Individual brokers have the ability to withhold listings from these sites, and in many real estate markets, these websites must rely on individual brokerages, agents and third-party syndicators for listing data. The result in trying to pull this information from multiple sources is that these sites end up with incomplete or inaccurate listing data.
Recently, research was completed by Zip Realty, comparing the actual listings in certain zipcodes for sale, and verified on the MLS, to the listing data shown on Zillow and Trulia. The study claims that more than 15% of homes shown for sale on Zillow and Trulia weren't actually on the market, and up to 30% of homes that were listed for sale in an MLS were not identified by Zillow and Trulia as being on the market.
Stavros concluded, "Ask any REALTOR how they feel about the accuracy of the pricing estimates given for homes on these sites, and the answers will be eye opening. While these sites can and do offer some great articles regarding buying and selling a home, when it comes to knowing the market, you must go local. This includes finding what is actually available for sale in the market place and getting an accurate analysis of the correct value of a home. Local REALTORS are in the trenches of the Knoxville real estate market every day, no mathematical formula will ever replace that experience."
ABOUT THE HOLLOWAY GROUP AT GABLES & GATES, REALTORS
The Holloway Group is committed to bringing the best possible experience to fruition for buyers and sellers of Knoxville real estate. At the Holloway Group we don't believe average is good enough for our clients. At the forefront of the Holloway Group is experience. Our team was created to serve our clients even better with specialization and expertise. We know that individually we cannot be everything to everyone so we have come together as a group, bringing all of our different strengths, so you always work with the best. We pride ourselves on being ahead of the curve on technology and how it can serve our clients. When you are a client of the Holloway Group, you can expect to have our entire team of professionals working to fulfill your individual real estate goal. As a member of Leading Real Estate Companies of the World the Holloway Group and Gables & Gates, REALTORS can assist you with finding the most qualified real estate professional to suit your needs, anywhere in the world! Visit our website to search ALL Knoxville homes for sale. Contact us today for assistance.