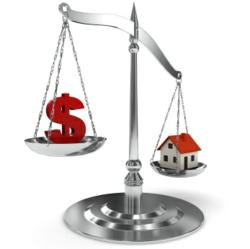 Today's buyers are savvy. They know if a home is priced correctly and know a deal when they see it. Those are the homes that get snatched up quickly.
Knoxville, TN (PRWEB) March 22, 2013
The Holloway Group, the leading Knoxville real estate team at Gables & Gates, REALTORS recently posted an article to their website titled, "How To Avoid Pricing Your Home Incorrectly."
Troy Stavros, Broker and Partner with the Holloway Group stated, "When you are selling a home in Knoxville, the strategy for pricing will be the #1 determining factor for getting a quick sale. Listing a home at the correct price can almost guarantee that a buyer will scoop up a property. On the flip side, listing at the wrong price can cause your home to languish on the market for months and months with little to no showings. Pricing is not a simple process, and Knoxville home sellers are likely to make mistakes that waste both time and money."
Don't let this happen! Read below and avoid these common pricing errors for the best shot at a fast sale:
ERROR #1: NOT DOING RESEARCH
Often times sellers will base the price of the home on the listing price of the house down the street or a rumor regarding pricing in the neighborhood. While knowing the prices of competition is important, in many markets, listing prices are not a good indicator of what a home will actually sell for.
TO DO: Price your home based on a "comparative market analysis". This is a report prepared by Knoxville real estate agents that look at the recent sales of similar homes in the area. For a fee, a seller can also get an estimate of a home's value with a professional home appraisal.
ERROR #2: HIRING THE AGENT WHO TELLS YOU THE HIGHEST LIST PRICE
It never fails. Sellers talk with several listing agents about how much the home should list for, and one gives a significantly higher listing price than the others. WARNING: the agent may be trying to "buy" the listing by suggesting an unrealistically high asking price. This practice is unethical and will cost a seller time and money. Sellers will ultimately end up having to reduce the price significantly after the home has sat, without interest for many months.
TO DO: Always interview at least three agents and choose one who backs the suggested listing price with comparable sales data.
ERROR #3: GETTING EMOTIONAL
Sellers have probably spend significant time, money, and energy turning a house into a home, so it is only natural to be invested emotionally in the sale. Here is the bad news, buyers won't have the same feelings for the home as the seller does. So regardless of what a seller "thinks" the home is worth, this should not be a factor in determining the listing price.
TO DO: Stay objective during the pricing process by focusing on data spelled out in the Comparative Market Analysis. Do not take personal offense to low offers. Think of them as the starting point of a negotiation that could ultimately result in the sale of the home and transition into a new home.
ERROR #4: PRICING HIGH EARLY
Sellers only have one chance at a first impression when selling a home in Knoxville and those first impressions are crucial to a fast sale. Research shows that the first 10 days of a listing generate the most activity. If a home enters the market overpriced, it will often be overlooked by many buyers because it will not fall into their price range. Then when the seller ultimately reduces the price to fair market value, those potential buyers will have already made an offer on another home. The buyers who may be interested in the new lower price will also see that the home has been sitting on the market for a while, which could lead to perceptions that there is something wrong with the home.
TO DO: Price the home correctly at the outset to get the attention of serious buyers and sell faster. Keep in mind the additional costs of ownership that a seller will be paying if the home sits on the market for multiple months at an unrealistic asking price.
ERROR #5: SELLER HAS "time to sell" SO PRICE HIGH AND SEE WHAT HAPPENS
See Error 4. "The best chance you have to sell your home, and sell it fast, is by pricing it either right at market value or just below" says Stavros. "Today's buyers are savvy. They know if a home is priced correctly and know a deal when they see it. Those are the homes that get snatched up quickly and at or sometimes over list price."
TO DO: Price the home based on current home values and a seller will ultimately sell the home faster and for more money.
ABOUT THE HOLLOWAY GROUP AT GABLES & GATES, REALTORS
The Holloway Group is committed to bringing the best possible experience to fruition for buyers and sellers of Knoxville real estate. At the Holloway Group we don't believe average is good enough for our clients. At the forefront of the Holloway Group is experience. Our team was created to serve our clients even better with specialization and expertise. We know that individually we cannot be everything to everyone so we have come together as a group, bringing all of our different strengths, so you always work with the best. We pride ourselves on being ahead of the curve on technology and how it can serve our clients. When you are a client of the Holloway Group, you can expect to have our entire team of professionals working to fulfill your individual real estate goal. As a member of Leading Real Estate Companies of the World the Holloway Group and Gables & Gates, REALTORS can assist you with finding the most qualified real estate professional to suit your needs, anywhere in the world! Visit our website to search ALL Knoxville homes for sale. Contact us today for assistance.