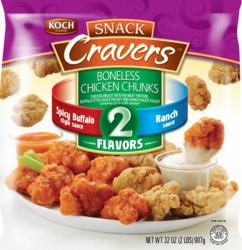 Park Ridge, IL (PRWEB) March 13, 2013
Koch Foods has introduced two new items to its Snack Cravers product line. Each two pound bag of Snack Cravers 2 Flavors includes premium boneless chicken breast chunks and two individual sauces. Available in Spicy Buffalo & Ranch and BBQ & Orange, Cravers' unique "2 Flavors" concept puts the consumer first by bringing home the restaurant experience of enjoying multiple sauce selections.
"We listened to our consumers and are excited to introduce new products featuring a variety of delicious sauces under the Cravers brand," said David Mehlman, Director of Retail Marketing, Koch Foods. "Our commitment to providing restaurant quality and flavor-driven choices led us to develop these innovative new items."
To introduce these new flavors, Cravers will launch its "Flavor Madness" campaign during the NCAA Basketball Tournament. Running from March 15 – April 8, consumers can visit the Cravers Chicken Facebook page and participate in an NCAA Basketball Trivia contest for a chance to win their favorite college basketball jersey and up to $300 in Visa gift cards.
New Snack Cravers 2 Flavors are now available at Walmart with an MSRP of $5.98.
About Koch Foods
Privately held Koch Foods, Inc. is the fourth-largest integrated poultry producer and one of the leading food manufacturing companies in the United States. Current distribution includes fresh and frozen products to the foodservice, retail and industrial channels across the country.
The Company's Cravers brand is available nationwide and features Oven Cravers stuffed chicken breast entrees, Tender Cravers chicken breast tenders and Snack Cravers items, including Chicken Fries and Chicken Breast Bites. These lines focus on delivering a variety of great tasting, restaurant-quality chicken products to consumers.
For more information visit:  
Koch Foods at http://www.kochfoods.com; Cravers brand at http://www.tendercravers.com
http://www.facebook.com/craverschicken
http://www.twitter.com/craverschicken
http://www.pinterest.com/craverschicken