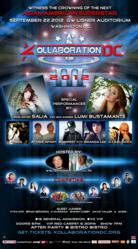 Kollaboration endeavors to strengthen the API presence in entertainment and media by empowering Asian American artists to pursue their creative dreams while inspiring newer generations of talent.
Washington, DC (PRWEB) September 20, 2012
The largest Asian-American talent competition and entertainment event of the greater Washington DC metropolitan area is quickly approaching, and it's not too late to purchase tickets! The highly anticipated third annual Kollaboration DC Talent Competition and Showcase will take place this Saturday, September 22, 2012 at 7:00PM at the George Washington University Lisner Auditorium (730 21st Street NW, Washington DC 20052), and promises to be an exciting and memorable experience for all ages.
Tickets, priced at $15 for General Admission or $40 for VIP, are available for sale now at http://www.tinyurl.com/KollabDCShow3. Doors open at 6:30 PM—arrive early for better seating! State Farm, one of the Talent Scout level sponsors, will also selectively hand out $50 iTunes gift cards on site so don't miss out!
This year's contestants represent some of the most unique and dynamic emerging talents in the region. The following acts, in no particular order, will be facing off for the $1000 grand prize: LacsaJacaKhan (Singer/Guitarist/Rapper), Christopher L. Santa Ana (Singer-Songwriter), Robert Park (Spoken Word Performer), GU Jawani (Dance Group), Robyn Kim (Singer-Songwriter), Jin Shin (Singer-Songwriter), Rocka (Singer-Songwriter), George Yamazawa Jr. (Spoken Word Performer), Mighty Morphing Boogie Rangers (Dance Group), and Jonathan C. Chen (Violinist). The winner will also open for David Choi and Clara Chung at the Howard Theater on November 10, 2012.
Along with this diverse group of competitors, we are pleased to welcome comedian Walter Hong, a member of Black Sheep Comedy, who will serve as Kollaboration DC III's emcee. The talent showcase will also feature the headlining performer, Japanese pop icon SALIA, and the following local guest performers: Atoms Apart (Electronic Duo), SNRG (Hip-Hop Group), Manifest (Rapper/MC) along with Amanda Lee (Singer-Songwriter and Second Place winner of Kollaboration DC 2011), and Lumi Bustamante (Singer-Songwriter and Grand Prize winner of Kollaboration DC 2011).
For additional information about Kollaboration DC, please contact Marvin Yueh at Marvin(at)kollaborationdc(dot)org or Margaret Zheng at Margaret(at)kollaborationdc(dot)org or visit us at http://www.KollaborationDC.org.
You can also stay tuned for updates by following us on Twitter (@KollaborationDC) or on Youtube.
---
Kollaboration is a nonprofit 501(c)(3) organization dedicated to the promotion of a strong Asian Pacific Islander presence in entertainment and media industry. Kollaboration was founded by Paul "PK" Kim in Los Angeles in August of 2000, and has expanded to the following locations: Los Angeles, New York, Toronto, Atlanta, Washington D.C., Chicago, Houston, Seattle, Tulsa, and San Francisco. The show is produced by young Asian and Pacific Islander professionals and students, volunteering their time and skills to celebrate the vast talents of their community. Detailed information about the organization and its events can be found on the Kollaboration DC website at http://www.KollaborationDC.org.