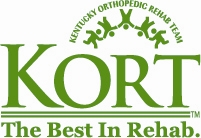 It wasn't only my physical injuries that were treated by my therapists, but also the emotional and psychological issues that come with a major injury
Louisville, Kentucky (PRWEB) March 08, 2013
Greg Bowen knows first hand the power of physical therapy. While on his way to visit his father in southern Indiana, he was in a life threatening car accident. Bowen sustained multiple injuries and was in the hospital for several weeks. He began his road to recovery at KORT's Lebanon clinic under the supervision of Dr. Laura Bandy, PT, DPT, OCS.
"During my first meeting with Laura, she started looking at all my injuries and said I was going to be a real challenge. At the time, I had a severe shoulder injury, two broken vertebrae, and a colostomy, and all those things had to be dealt with. I'll never forget what she said after that. She says we're going to do our very best here to get you back to your pre-accident state. That was so powerful for me to hear. It was the encouragement I needed," said Bowen.
Bowen said it was not just the attention and care he received while in the clinic, but the education and at-home exercises he was given that contributed to his successful recovery.
"The wonderful thing about Laura and so many others here at KORT, was that they would give me just the right exercises to help whatever my problem was that day. Exercises that I could also do at home which helped tremendously," said Bowen.
Bowen says it wasn't only his physical injuries that were treated by his therapists, but also the emotional and psychological issues that come with a major injury.
"I didn't get just physical therapy I got everything else I needed, too. I got encouragement, support and the therapy I needed to deal with the mental and emotional issues that went along with being injured," said Bowen. "Even though recovery is hard work, they make it fun here."
Nearly a year and a half after his near fatal accident, Bowen is fully recovered. He has returned to fishing, one of his favorite pastimes, and plans to play volleyball this fall.
Physical Therapy Proven to Work
Research shows that patients who participate in physical therapy following injury or surgery have better success rates and return to their daily lives more quickly. Physical therapy helps patients eliminate pain and restore function, while providing them with the tools they need to avoid reinjury.
According to KORT Regional Director Dr. Chris Kaczmarek PT, DPT, OCS, CSCS, at KORT, patients like Greg Bowen are given an individualized treatment plan based on their needs and goals.
"Every patient's situation and individual needs are different and unique. For us to achieve the best outcome for patients, our therapists need to be 100% invested," says Kaczmarek. "While we love our patients and enjoy every moment we spend with them, we want them to achieve all their goals, finish therapy and live their lives to the fullest."
According to Kaczmarek, KORT maintains a low patient to therapist ratio to improve outcomes. As insurance copays, deductibles and patient costs continue to rise, KORT maintains a focus on getting patients back to their normal routines more quickly and cost-effectively, by staying current with medical literature and the most effective treatment interventions for patients.
"We spend a great deal of time and resources to ensure our therapists grow professionally and gain new clinical skills. Our therapists provide a care-active, research-proven, hands-on treatment that allows them to achieve high level outcomes and get patients back to their lives more quickly," said Kaczmarek.
Most insurances allow patients to schedule with the physical therapist of their choice directly.
Kentucky Orthopedic Rehab Team (KORT) has been specializing in outpatient physical and occupational therapy in Kentucky and Southern Indiana for over 25 years. Local ownership and independent operations, allow KORT clinicians to work one-on-one with patients to regain strength, increase flexibility, improve mobility, and reduce pain without drugs or surgery. Selected as a "Best Places to Work in Kentucky" for nine consecutive years, and with over 40 locations, KORT has the most board certified Orthopedic Specialists and Vestibular Rehabilitation specialists than any other provider in the region. KORT's certified athletic trainers provide sports medicine services to more than 30 high schools and colleges in Kentucky & Southern Indiana.
###