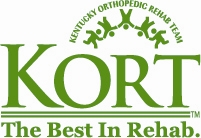 The program has helped me sharpen the efficiency with which I make decisions for my patients on a daily basis
Louisville, Kentucky (PRWEB) March 20, 2013
Recently, Emily Green, PT, DPT, KORT English Station (Louisville, KY), Brandon Fowler, PT, DPT, KORT Partners in Physical Therapy (Louisville, KY) and Daniel Cayse PT, DPT, KORT Richmond (KY) graduated from the KORT Orthopaedic Residency program.
The program, which was recently accredited by the American Board of Physical Therapy Residency and Fellowship Education (ABPTRFE), is a year-long intensive clinical training and education experience that includes more than 150 hours of direct patient care within the physical therapy clinic, as well as rotations with radiologists, orthopedists, an orofacial pain clinic, and business and marketing professionals, said KORT Orthopaedic Residency Coordinator Troy L. Grubb, PT, DPT, OCS, ATC.
"This is a very demanding program which helps prepare residents for their future careers in physical therapy. We will continue to add new elements and evolve the program to ensure that it is the best residency experience in the country," said Grubb.
According to Grubb, residents spend 10-15 hours per week in self-study in addition to their full-time work schedule. They have ongoing assignments and weekly communication with KORT therapists, and complete mid-term and final written examinations created and graded by the Orthopaedic Section of the American Physical Therapy Association, he said. Residents complete clinical practicum assessments, a community service project, and a case presentation project, said Grubb.
Program graduate Brandon Fowler, PT, DPT says the combination of hands-on learning with the evidence-based research study has made him a better, more efficient clinician.
"When you graduate from school you get these sets of tools and they say here is all this information now you should go do something with this. You're inundated with how many choices you can make for your patients to meet their needs. The purpose of the residency program is to really sharply fine tune these skills so we can get folks better quicker. The program has helped me sharpen the efficiency with which I make decisions for my patients on a daily basis," said Fowler.
Class of 2013 Named
KORT recently announced this year's residency class which includes: Josh Bixler, PT, DPT, KORT Old Brownsboro Crossing Clinic (Louisville), Stephanie Elliott, PT, DPT, KORT Hamburg Clinic (Lexington) and Emily Nicklies, PT DPT, KORT Tyler Center (Louisville).
Although the majority of the resident education is hands-on patient care and personal interaction with medical professionals, residents also make use of advanced technology to enhance their clinical experience, said Grubb. Students have access to the best in evidence-based clinical research and learning tools, he said. In addition, KORT collects important data on the student's performance and overall experience which will be used to revise and improve program elements in the future, said Grubb.
"KORT is dedicated to high quality, excellent clinical care for our patients and to developing future leaders in physical therapy. The Orthopaedic Residency program is designed to meet those goals by preparing residents to meet the ever-evolving demands of the profession," said Grubb.
Kentucky Orthopedic Rehab Team (KORT) has been specializing in outpatient physical and occupational therapy in Kentucky and Southern Indiana for over 25 years. Local ownership and independent operations, allow KORT clinicians to work one-on-one with patients to regain strength, increase flexibility, improve mobility, and reduce pain without drugs or surgery. Selected as a "Best Places to Work in Kentucky" for nine consecutive years, and with over 40 locations, KORT has the most board certified Orthopedic Specialists and Vestibular Rehabilitation specialists than any other provider in the region. KORT's certified athletic trainers provide sports medicine services to more than 30 high schools and colleges in Kentucky & Southern Indiana.
###